Financial Strength
A Foundation for the Future
Long-term financial success is a foundational pillar of Asbury, ensuring we will continue to innovate and keep the promises we make to those we serve. Less than 25 percent of the nation's CCRCs hold investment-grade bonds. We are proud to be among this group.
From our beginning close to a century ago, we have grown our organization and expanded our Mission to serve more. We monitor and strengthen our financial health in the following ways:
Requiring an annual audit by a leading firm to review the system's Consolidated Financial Statement, which you can view and download below.
Growing our organization and building strong financial reserves to support our Mission and provide capital for future community investment: Albright Care Services joined our organization in 2020, followed by Chandler Estate in 2021. Based on combined 2021-2022 annual results, Asbury had $250 million in Total Revenues, Gains & Other Support. Total combined Cash, Investment & Foundation Reserves was $169 million.
Ensuring strong occupancy supporting the system's overall financial health through strategic sales and marketing, technology resources, and more.
Delivering our not-for-profit pledge by supporting a benevolent care program for which qualified residents who have outlived their resources through no fault of their own may apply.
Asbury is overseen by a Board of Directors with expertise in key areas related to our business, including the finance and health care industries. Their oversight and strategic guidance, in collaboration with our strong leadership team, ensures that Asbury is positioned for continued success.
Accreditation
Asbury is proud to hold EAGLE Accreditation through the United Methodist Association of Health and Welfare Ministries at our Maryland and Pennsylvania communities. Through on-site peer reviews and a re-accreditation process for existing members, EAGLE ensures that partner organizations are: operating in a manner that is representative of their faith values; being responsible stewards of physical and financial assets; ensuring long-term sustainability; and, honoring their not-for-profit status by reinforcing community benefit and spiritual values. Learn more at OurUMA.org/EAGLE.
The Heart of Asbury: Asbury Foundation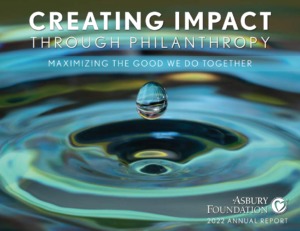 Asbury Foundation is key to our not-for-profit pledge as a 501(c)(3) organization that secures philanthropic support to enhance the quality of life for seniors served by the Asbury system of communities. Each year, Asbury Foundation secures funds supporting benevolent care for qualified Asbury residents as well as capital projects and programs that carry out residents' priorities and passions.
Asbury Foundation touches virtually every aspect of Asbury's system, ensuring that our Mission is hard at work wherever we are, as we continue strive to make positive change for our stakeholders and communities.
In 2022, the Asbury Foundation donor family provided nearly $10.8 million in gifts across key areas of focus within the Asbury Foundation's Strategic Plan: Benevolent Care, Capital, Innovation, Scholarships & Education, and Special Programs.
Partnering for Success
The collaborative partnerships we develop with businesses enhance our processes with new innovations and solutions. Because each business partner is an industry leader in key value areas such as dining and facilities management, we can build on key metrics like resident occupancy.
Corporate partnerships have led to us becoming market standouts in skilled nursing and environmental sustainability. Our business partners are some of the most efficient and innovative providers in the industry allowing Asbury to do all the good we can on a larger scale.
File Downloads
Download our 2022 Audited Consolidated Financial Statement
Download our 2021 Audited Consolidated Financial Statement
Asbury Communities 2021 IRS Tax Return – Form 990