Asbury Leadership
Leading the way to success
Providing strategic planning and operational expertise, our Senior Leadership Team is supported by experienced, volunteer Board members who are highly regarded in their professions and exceptional associates across our organization. With a strong foundation, forward-thinking and collaborative leadership, and an organization dedicated to doing all the good we can with integrity, transparency, and grace, Asbury is well prepared to be a national leader in redefining the expectations of aging.
Doug Leidig
President & Chief Executive Officer
As President & Chief Executive Officer of Asbury Communities, Inc., Doug has more than 30 years of experience dedicated to enhancing and enriching the lives of older adults. During more than 20 years with Asbury, he has set in place the foundation for organizational growth and Mission expansion through encouraging accountability, data-driven decisions, and innovation. During Doug's career, he has overseen the operations of several senior living communities and implemented numerous advancements in care and wellness for residents within those communities.
Doug is currently on the advisory board for Senior Living 100, the premier leadership event for C-level executives from the nation's largest, most progressive assisted living, independent living and continuing care providers; serves on the board for Caring Communities, an industry insurance provider; serves on the board for the United Methodist Association; and is a board member of The Healthcare Council. He previously served as the Chair of LeadingAge Maryland and as a Director on the Kairos Health System Board. Doug is a licensed nursing home administrator in Maryland and Pennsylvania and holds a bachelor's degree in long-term care administration from York College and an MBA from Mount St. Mary's University.
Doug was selected as a 2021 Changemaker by Senior Housing News.
Andrew Jeanneret, CPA
Chief Financial Officer
Andrew Jeanneret is responsible for overseeing the finance and accounting functions of the Asbury not-for-profit system and affiliated entities. With more than three decades of experience in finance, he has held senior financial and accounting positions within the healthcare, accounting, pharmaceutical, biotechnology, insurance and technology industries over the course of his career. Andrew joined Asbury from Learn It Systems, LLC, where he served as Chief Financial Officer and was responsible for all financial functions including general accounting, revenue processing and financial analysis for a rapidly growing behavioral health and education services company.
He previously served as Chief Financial Officer with Millennial Media Inc. (MM), a pioneer in the mobile marketing and advertising business. He also served as Chief Financial Officer for Dialysis Corporation of America, as Vice President, Controller and Chief Accounting Officer at MGI Pharma (formerly Guilford Pharmaceuticals Inc.), and as Assistant Controller and Director of Treasury Services for Life Technologies, Inc. He received his bachelor's degree in Accounting from Boston College, his MBA in International Business and Finance from The George Washington University, and he is a Certified Public Accountant (CPA).
Sandra Hegelein Lawson
Chief Growth Officer
Sandra Hegelein Lawson leads Asbury's strategic growth initiative, utilizing strengths such as relationship building, contract negotiation, solution design, public speaking and financial acumen. She draws upon 28 years of experience in contract management, including a 16-year focus on senior living business development, to achieve successful outcomes. Previously, she served as Director of Business Development for Sodexo Seniors North America, managing a region including Pennsylvania, Maryland, Virginia, the District of Columbia, North Carolina, South Carolina and Florida. She developed more than 150 strategic business partnerships designed to improve quality of life for older adults as well as deliver operational efficiencies, labor optimization, and sustainable savings.
With Sodexo, Sandra was a consistent top sales performer, an eight-time recipient of the Sodexo Eagle Award for sales and a 12-time recipient of the Sodexo Inner Circle Award. Sandra has served as a board member for multiple not-for-profit organizations, and currently serves on the Executive Board of the American Senior Housing Association (ASHA). She holds a bachelor's degree from the University of Delaware and a master's degree from New York University.
Mike Bartoszek
Chief Human Resources Officer
Mike is an accomplished leader with more than 30 years of experience in human resources. He joined Asbury in April 2022 following two decades at Sodexo, a Global Fortune 500 company. Mike is responsible for leading Asbury's overall human resources strategy, including talent acquisition and retention, leadership development, diversity, equity and inclusion, organizational cultural development, compensation and benefits, system HR operations, and associate relations.
Mike's leadership experience spans multiple HR disciplines where he has demonstrated sustained excellence. Mike's approach is solutions-based, and his achievements are rooted in an ability to quickly develop a deep understanding of the business, establish an environment of trust, and adapt to an ever-changing business landscape. In his time with Sodexo, Mike received multiple awards recognizing his outstanding contributions. He holds a BA in Business from Alvernia College (now Alvernia University).

Andrew Joseph
General Counsel
Andrew has over 22 years of experience providing legal services to health care providers, and has served as Asbury's in-house counsel for more than seventeen years. He specializes in legal and regulatory issues unique to the not-for-profit senior living and long-term care sector, and provides day-to-day corporate legal services related to administration, governance, contracting, and employment practices. He is an operations minded legal counsel, mitigating risk while maintaining focus on key operational and business objectives.
Previously, Andrew served as the Compliance and Privacy Officer, responsible for ensuring the effectiveness of the organization's system-wide compliance and risk management program. He is licensed to practice law in Maryland and Pennsylvania, and holds a master's degree in Health Services Administration from The George Washington University; Juris Doctor, from the University of Baltimore; and a bachelor's degree from the University of Delaware.
Todd Andrews
President, Community Living Division
Todd brings more than 26 years of experience in providing services and quality of life programs to seniors. He is responsible for the continuous development and growth of Asbury's programs and offers particularly geared toward new consumers. Joining Asbury in August of 2019 from Sodexo USA Seniors where he served as a Regional Vice President, Todd is focused on positioning Asbury as a Provider of Choice in our markets and creating Quality of Life innovation for those we serve. Todd has provided strategic growth, operational effectiveness and innovation in many different types of community settings. Prior to joining Sodexo, Todd worked for Marriott International. He holds a Bachelor of Science degree in Public Administration from Binghamton University and is a Certified Aging Services Professional.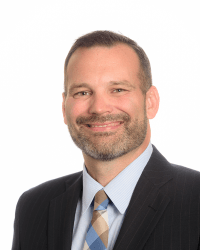 J.D. Shuman
President & CEO, Asbury Foundation
J.D. brings a history of exceptional results to his role leading Asbury's 501(C)3 charitable organization, which is dedicated to benevolent care and life-enhancing programs and projects for residents of Asbury's communities. Before assuming his current role at Asbury Foundation, J.D. served the organization for 10 years, eventually as its Vice President of Development. In 2017 J.D. became President of the Homewood Foundation, part of Homewood Retirement Services, where he increased annual giving to new levels. At Asbury, J.D. was integral to the success of such key campaigns as the construction of the Richard D. Rife Center at Bethany Village and to significant increases in philanthropic support across the Asbury system. J.D. has a bachelor's degree from Strayer University. He is a Certified Fundraising Executive (CFRE) and holds certifications from the Association of HealthCare Philanthropy Madison Institute in Planned Giving, Foundation Management and Major Giving with a Campaign Focus.
Nick Patel
President, ThriveWell Tech
Nick Patel has more than 15 years of experience in strategic planning, finance, operations, and sales management in both domestic and international markets, including with Fortune 500 companies. Nick brings a proven history of delivering results and customer satisfaction to his role with ThriveWell Tech where he is responsible for business growth as well as the strategic planning and execution of technology hardware and software initiatives and programs.
Nick joined ThriveWell Tech from CompuGain, a global provider of business solutions, technology consulting services and outsourced project services, where he served as CFO before being promoted to COO. Nick's prior work experience includes serving as a Senior Advisory Consultant with Fannie Mae, a Senior Project Manager with Freddie Mac, and financial and accounting roles with MCI, Sprint/Nextel, and the Associated Press. Nick received his bachelor's degree in management from England's University of Manchester School of Business, and he is a Certified Public Accountant.
Shaun Smith
President, Integrated Services/
President, Albright Care Services
Shaun Smith has been with Albright Care Services since 1997. He most recently served as the President & CEO of Albright Care Services, and his his previous positions include Executive Vice President, the Vice President of Community Services, the Vice President of Therapy Services, and the Administrator of the RiverWoods Nursing Care Center.
Shaun has a Master's degree in Public Administration from Marywood University, Scranton, and a Bachelor of Science degree in Occupational Therapy from Syracuse University. Prior to joining Albright, Shaun was the Regional Vice President for Therapy Services at Nova Care.