Albright Pharmacy Services Expands to Bethany Village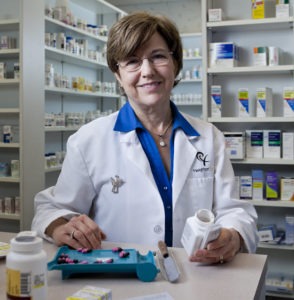 Asbury Communities is pleased to announce that we have expanded the pharmacy operations of our newest affiliate, Albright Care Services, to begin serving residents of our Bethany Village community in Mechanicsburg, Pa. The expansion is an important step forward in the ongoing integration of Albright Care Services into the Asbury Communities organization. Prescription services began with residents of Bethany Village's healthcare neighborhoods on August 14.
Albright Pharmacy Services was established in 2000 and is located on the RiverWoods campus in Lewisburg, Pa. The pharmacy fills and delivers orders to that campus, as well as Normandie Ridge, in York, Pa., and Albright's three Program of All-Inclusive Care for Elderly centers located in Lancaster, Lycoming, and Lebanon. Credentialed with all major insurance companies, Albright Pharmacy filled an average of 7,000 prescriptions per month prior to the Bethany Village expansion.
Shaun Smith, President of Albright Care Services, cites three driving factors behind the establishment of its pharmacy operations: quality control, operational efficiency, and diversifying revenue sources beyond those of the traditional continuing care retirement community.
"When you're a provider you have a different understanding of what is needed and the systems and processes that will work best for your nursing staff and residents," Smith says. "For example, we've been able to implement a 7-day pill cycle on prescriptions which saves residents money. Staff benefits, too. Our pharmacy can input prescription orders for new admissions to our health care centers directly, which saves our nurses time, and we control the delivery process which adds peace of mind."