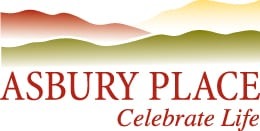 GERMANTOWN, Md.  –  Asbury Communities (Asbury), a not-for-profit system of communities serving older adults headquartered in Germantown, Maryland, and founded in 1926, announced today that it has welcomed Tennessee-based Asbury Place via affiliation.  As a result of the affiliation, Asbury Communities will grow to eight locations in four states, serving more than 4,300 older persons and employing more than 3,000 associates.
"We look forward to welcoming those who live, work and volunteer at Asbury Place," said Doug Leidig, Asbury Communities' President and CEO. "The similar faith-based heritage and charitable missions of our two organizations provides opportunities for us, together, to build upon our successes and reach more older adults in the communities we serve."
Asbury Place is a not-for-profit continuing care retirement provider with communities in Maryville and Kingsport, Tennessee. It opened in 1956, and in the 60 years since, has grown to serve approximately 600 older adults while employing more than 400 associates in East Tennessee.
"The affiliation honors each organization's respective mission-driven commitment to serve older adults, both to 'do all the good we can' for seniors, as well as to 'celebrate life, every day, through every circumstance, with every person, in every way,'" said Marge Shonnard, Vice President of Operations for Asbury Place.
Both systems have achieved a level of excellence in senior care that led to accreditation through the Commission on Accreditation of Rehabilitation Facilities and the Continuing Care Accreditation Commission (CARF-CCAC).
Asbury Communities, Inc. is a management organization providing life-enhancing housing and services for older adults. Asbury is ranked by LeadingAge and Ziegler Capital Markets Group's AZ 100 as the 17th- largest not-for-profit multi-site senior living organization in the country.
Asbury, Inc., (DBA Asbury Place) a not-for-profit corporation, operates Asbury Place, CARF-CCAC accredited continuing care retirement communities in Kingsport and Maryville, Tenn.