Asbury Earns 2021 Gaithersburg City Environmental Award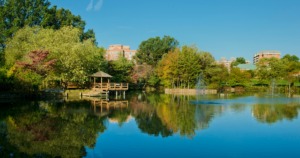 We're proud to announce that Asbury Methodist Village has been named a 2021 Gaithersburg Environmental Award Winner! This is the fifth year that Asbury Methodist Village has earned this award which recognizes notable recycling efforts by Gaithersburg businesses.
The numbers are impressive! Asbury Methodist Village captured 86 tons of food waste and compostable materials last year, removing it from landfills and putting it to use creating healthy gardens across Montgomery County. This was a 43-ton increase from 2019. We are grateful to the residents who utilized our compost bins during 2020.
In 2020, Asbury Methodist Village also began utilizing Ozzi reusable containers for the approximately 800 meals we were delivering to residents each day as part of our safety measures during COVID-19. Coupled with our composting, the Ozzi initiative reduced overall trash produced by the 1,200 residents and 750 associates living and working on our campus by 78 tons!
Asbury Methodist Village, a 134-acre continuing care retirement community in Montgomery County, Md., has been growing our environmental commitment for the past decade.
"It is exciting to be part of a senior living community that is so committed to environmental stewardship," says Asbury Methodist Village Executive Director Michele Potter. "We are grateful to residents, associates, and to Sodexo, our dining and environmental services partner, for their commitment and leadership in these efforts campus-wide. I'd like to particularly recognize the dedication of Harold Jones, Director of Environmental Services and Mark Whalen, Director of Dining for Asbury Methodist Village, who have been integral to growing our success."
Asbury's environmental sustainability efforts are ongoing and include:
The creation of a 17-acre Wildlife Preserve on our 134-acre campus and accreditation as a Wildlife at Work site by the Wildlife Habitat Council
Partnering with Compost Crew to turn our food waste into compost
Earning arboretum status through ArbNet
Implementing campus-wide energy-efficiency programs to reduce our use of water, gas, and electricity
Asbury Methodist Village is part of Asbury Communities, a leading not-for-profit system of continuing care retirement communities and related aging services operating in Maryland, Pennsylvania, and Tennessee. Asbury Methodist Village is accredited by CARF International, EAGLE, and SAGECare, and offers independent senior apartments, Villas, and Courtyard Homes as well as a full continuum of on-site health care services.