Asbury Methodist Village Partners with Holy Cross Health
On-site Primary Care Clinic Expands Services for Residents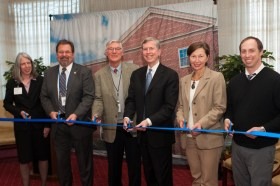 On February 23, 2015, Asbury Communities and Holy Cross Health formally celebrated the opening of new partnership with a ribbon-cutting ceremony at Asbury Methodist Village. The new practice and state-of-the-art health clinic, named Holy Cross Health Partners at Asbury Methodist Village, opened on January 5, 2015, and operates Monday through Friday from 8 a.m. to 4:30 p.m., and provides 24-hour, on-call coverage.
"With health services now available on campus, Asbury residents have access to skilled providers just a short walk or shuttle ride from their front door," said Ed Thomas, CEO of Asbury Communities, Inc.  "The friendly, compassionate staff of Holy Cross Health Partners is a very welcomed addition to our community, and we are proud to partner with such a highly trusted health care provider in the area."
"We are pleased to join with Asbury Communities to offer residents the convenience and flexibility of having a state-of-the-art clinic just steps away from their homes," said Kevin J. Sexton, president and CEO of Holy Cross Health. "Both organizations share a mutual commitment and record of serving the needs of seniors, which makes this a powerful partnership."
The partnership with Holy Cross Health was the result of a several-months-long search by Asbury Methodist Village, which worked closely with residents of the continuing care retirement community to solicit feedback about what organizations and services they felt best complemented Asbury's existing offerings.
The newly renovated 2,739-square-foot primary care center features the latest technology, state-of-the-art examination rooms and a staff of experts in care for older adults. All providers have access to Holy Cross Health's electronic medical records system, giving the physician's office around-the-clock information about the patients it serves. Providers can also coordinate care and recommendations with on-campus services such as wellness, rehabilitation, assisted living and skilled care.
Utilizing a care team approach to patient services, Holy Cross Health Partners medical staff includes Yelena Melyakova, M.D., who is board-certified in internal medicine and geriatrics. As necessary, Dr. Melyakova will refer patients to specialists and ensure appropriate follow-up after the visit.
Holy Cross Health brings a tremendous expertise in senior care to Asbury Methodist Village. In 2008, Holy Cross Health opened the nation's first, and the region's only, Seniors Emergency Center at Holy Cross Hospital, and recently opened a brand new full service hospital, Holy Cross Germantown Hospital, just eight minutes away from Asbury Methodist Village.
For more information about Holy Cross Health Partners at Asbury Methodist Village, contact Linda Aber, Director of Communications, Asbury Methodist Village, or visit www.AsburyMethodistVillage.org.
CONTACTS:
Eric Anderson
Director of Communications, Asbury Communities, Inc.
C: 240-506-5759, [email protected]
Linda Aber
Director of Communications, Asbury Methodist Village
C: 301-216-4106, [email protected]
Yolanda Gaskins
Director of Media Relations, Holy Cross Health
C: 202-550-0454, [email protected]
Holy Cross Health, founded in 1963 by the Sisters of the Holy Cross, is a Catholic health care system that includes Holy Cross Hospital, the largest hospital in Montgomery and Prince George's Counties, a new hospital, Holy Cross Germantown Hospital, the first hospital in the nation located on the campus of a community college, and Holy Cross Health Network, which provides 30,000 primary health care visits annually and serves as the locus for physician and insurance relationships.
Asbury Methodist Village is a CARF-CCAC- and EAGLE-accredited continuing care retirement community that is home to more than 1,300 residents, and part of the Asbury system of services for older adults.
Asbury is an organization providing management and life-enhancing services for older adults. Asbury is ranked by LeadingAge and Ziegler Capital Markets Group's AZ100 as the 15th- largest not-for-profit multi-site senior living organization in the country.