Asbury Communities Named Frederick MD Best Place to Work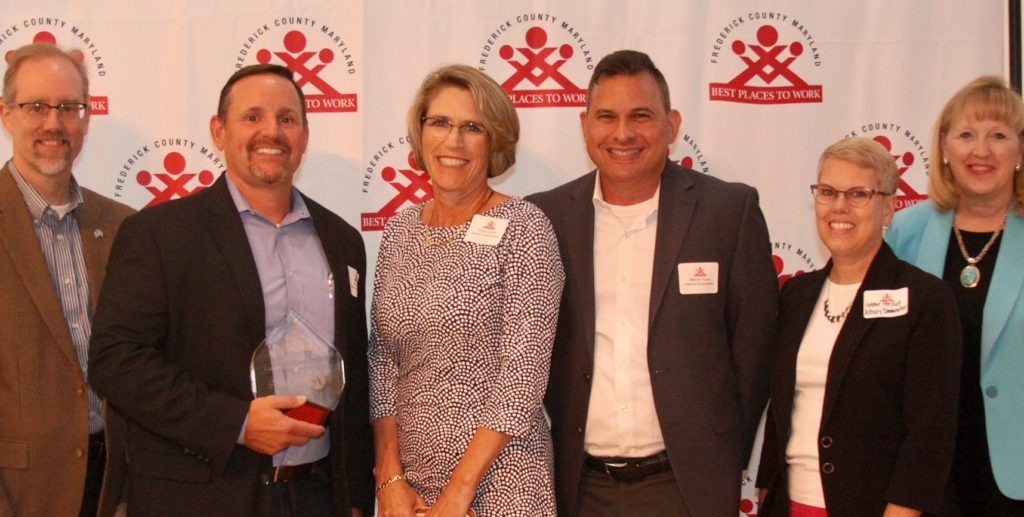 Asbury Communities is excited to announce that we have been chosen as the 2019 Frederick County Maryland Best Place to Work in the large employer category.
Asbury President & CEO Doug Leidig accepted the award during a reception held at the Delaplaine Center on July 30.
"Asbury is changing the expectations of senior living, and that is exciting, fulfilling work," Leidig says. "In 2018, our organization was certified as a Great Place To Work and listed as a top 40 Best Company in Aging Services by Fortune. That speaks to the relationships our associates develop with the residents they serve and with each other, and to the high level of trust they have in the organization. I'm especially proud of our decision to be a leader in the industry in paying a living wage, so every associate has the opportunity to live with dignity."
Asbury Communities, which operates seven continuing care retirement communities and employs approximately 2,400 associates in four states, moved its headquarters to Frederick County from Montgomery County, Maryland in September 2017. The Asbury Support & Collaboration Center (ASCC), which is the name of our Frederick headquarters, employs just over 80 people who support the system in finance, human resources, IT, operations, law and compliance, and marketing and communications.
The move was an opportunity to embark on a new way of doing business, with an open office concept where no one, not even the CEO, has an office. We support each other through challenges and celebrate our successes together every day.
Signage at the ASCC reflects organizational priorities and philosophies. "The happiest people are those who do the most for others" speaks to our service-minded, Mission focus. The Walt Disney quote: "It's kind of fun to do the impossible" inspires us to meet the impossible head on, whether it's leading our industry with innovative ways to use artificial intelligence to enhance the resident experience, developing a phone app to communicate better with our front-line associates, or exploring ways to meet the aging population in their current space at home.  By being open to ask "Why, Why Not and What if", we are shaking up the senior living industry.
With a Mission to do all the good we can for those we serve and a Vision to be a leader in redefining the expectations of aging, Asbury is an inspiring place to work! We're proud to see that recognized in our selection as a Frederick County Maryland Best Place to Work.
The Best Places to Work Award is a collaboration between the Frederick County Office of Economic Development, Frederick County Chamber of Commerce, and Frederick County Workforce Services.