Building Brain Health at Bethany Village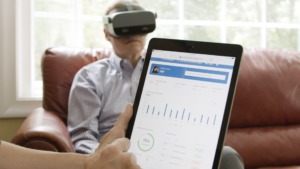 Despite decades of research, knowledge about the brain and how lifestyle, diet and other factors can affect it remain largely elusive. But more than 45 Bethany Village residents recently participated in a pilot for the cutting-edge REACT Neuro brain health program that aims to change that. REACT Neuro utilizes virtual reality (VR) technology to assess brain health and provide 'exercises' that workout various cognitive domains.
Bethany Village is the second Asbury community to take part in REACT Neuro, which was developed by a team of internationally acclaimed neuroscientists from Harvard Medical School and the Massachusetts General Hospital McCance Center for Brain Health. REACT Neuro was first piloted at Asbury Methodist Village in Gaithersburg, Md., where it is part of a new Brain Health Center for Excellence. Next, it will move to RiverWoods in Lewisburg, Pa.
Users of REACT Neuro don a VR headset to take part in virtual reality scenarios and games that are using eye movement to subtly assess brain function in executive function, cognitive function, attention, and memory. They are guided through the exercises by a 'coach' in the headset. Users receive a report of their results and can measure changes over time. They are also able to see their results compared to gender- and age-matched populations.
The program is spearheaded by Bethany Village Director of Wellness Justin Margut. "Just like you can make improvements in physical health, we want to impact residents from a brain health perspective as well," says Justin. "We're excited to be able to use cutting-edge technology and a multi-dimensional approach to well-being."
Phase two of the REACT program will kick off in April 2022 and will include headsets that have been fine-tuned based on pilot participants' feedback, more immediate reporting, and nutritional recommendations.
Mary Anne Morefield is one of the resident participants and hopes her involvement will contribute to broader knowledge about the brain. "It's fun to be part of a research project," says Mary Anne. "I'd like to know more about my brain, but I'm also in it to see if it will help science to learn more about all of our brains." Mary Anne and Lowell Starling, another Bethany Village resident, worked with Asbury Foundation to provide the philanthropic support that brought the REACT Neuro tool to Bethany Village.
"We're trained on helping residents with their physical wellness through exercise," says Justin. "And through this program, we're on the frontier of learning how to make improvements in brain wellness. That's very exciting."