CBS Evening News Features Asbury's Own 'Golden Girls' Trio
3 women discuss their nearly 50 years of friendship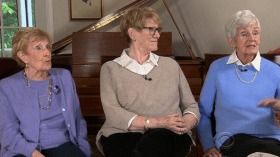 GAITHERSBURG, Md. — Long before Dorothy, Rose and Blanche, there were Margaret, Barbara and Nancy. And nearly half a century later, they are still thankful for being friends.
Margaret Sugg, Barbara Fletcher and Nancy Fassett have spent decades redefining the word "friendship." They've lived together for five decades.
They met back when Lyndon Johnson was president. Margaret and Barbara worked on Capitol Hill and Nancy was a librarian. They all ended up living in a group house in the fashionable Georgetown neighborhood of Washington, D.C.
They thought it was temporary, but as the years went by, they got along so well they bought a house together.
It's that fact that many people compare them to the "Golden Girls" of the 1980s television sitcom that revolved around the friendship of four women of a certain age.
They're all adventurous, crisscrossing the globe from Venice to Yalta to the Orient Express.
And just like those Golden Girls, these girls look out for each other. They drive each other to doctor's appointments, spend holidays together and they decided to grow old together by buying a house in a retirement community.
"I think we all would be married," Fletcher told CBS News if they hadn't gotten together.
"I would have found a nice young man and gone to Hawaii," Margaret said.
But they say they never found any men who were as much fun as each other.
They say those TV Golden Girls just might have been on to something.
"That different kinds of people can live together happily … you don't have to be a man and a woman," Fletcher said. "You can be a group of friends … and be just as happy."
It's a lesson from three girls whose friendship is still golden after all these years.