Asbury Methodist Village Featured in Brain-Healthy Recipes Segment on ABC DC Affiliate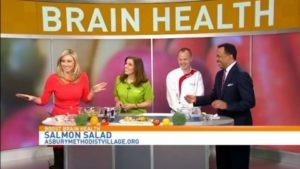 Asbury made an appearance on WJLA's Good Morning Washington show today sharing brain-boosting recipes for healthier aging.
Asbury Methodist Village's Lifestyle and Wellness Director Cathy Richards talked about the importance of brain health and the role that certain foods play in brain functioning and the prevention of dementia. Meanwhile, Executive Chef Gerry Ryan put those ingredients to use making salmon salad and broccoli coleslaw on set.
Check out the recipes here and view the video below.
Founded in 1926 and located in Gaithersburg, Md., Asbury Methodist Village has evolved into one of the nation's largest continuing care retirement communities. Good Morning Washington is on each weekday in the DC market on News Channel 8.