Micro-Farms at Asbury Tempt Tastebuds and Help the Earth
In 2021, Asbury introduced Babylon Micro-Farms™ at several of its senior living communities, making it possible to add farm-fresh herbs and lettuces to its menu selections.
Recently, Bethany Village retirement community in Mechanicsburg, Pa., helped showcase this farm-to-table process, gathering photos of Babylon's app-based alert system that tells you when to plant and harvest; catching resident green thumb Anne Swenson in action; and, showing the fresh herbs being added to brick-oven pizzas in John & Annie's Bistro. Once the seeds are planted, Babylon's staff remotely control the light, water, and nutrients for the farming system.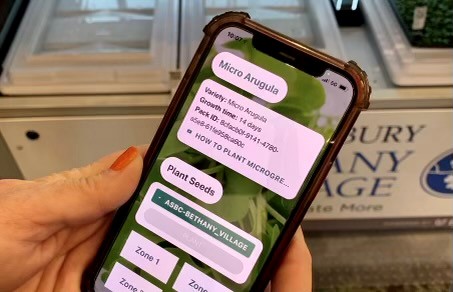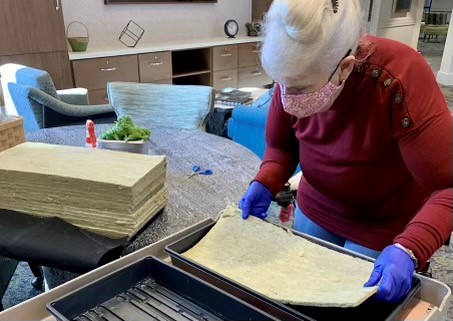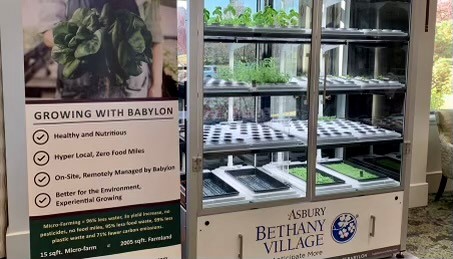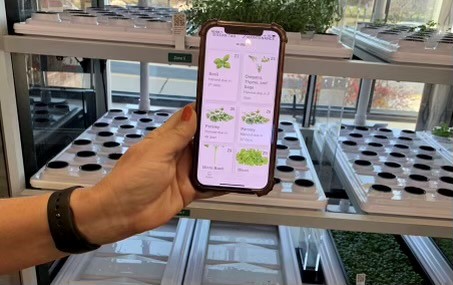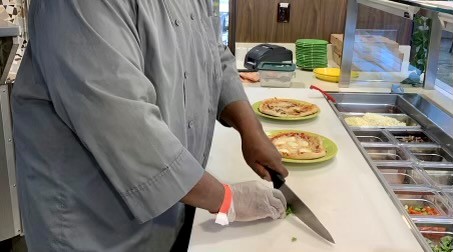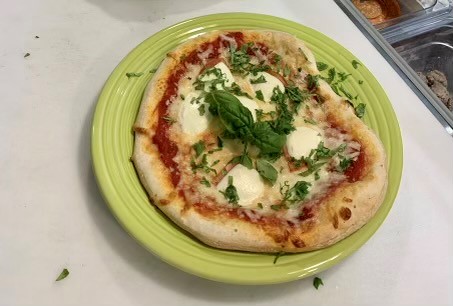 Barbara Bankard is member of the Bethany Village Ecology Committee who calls this "a win-win." Since moving to Bethany Village, Barbara has advocated for more locally-sourced, organic produce on the menu.
While residents can grow their own produce in Bethany's community gardens or drive to a farmer's market, not everyone is able to do that, Barbara notes. "Now, people who eat at the Bistro have year-round access to fresh, organic herbs and greens. I love technology!"
Barbara's not the only resident who is enjoying the new micro-farm. Anne Swenson is one of several residents who helps with planting and harvesting while many others like stopping by to monitor what's growing. And anyone who enjoys brick-oven pizzas in Bethany Village's new Bistro lends a hand eating the micro-farm's harvests.
Produced by Richmond, Va.-based Babylon, the hydroponic Micro-Farms™ use custom seed mixes to grow a wide range of greens and herbs for use by community chefs.  The greens-filled cases can also be found at Asbury Solomons, in Solomons, Md., and Normandie Ridge, in York, Pa.
"Watching a garden grow is life-affirming and exciting, even more so when you get to enjoy the fruits of your labors and watch others benefitting from healthy, sustainable produce," says Alexander Olesen, CEO of Babylon Micro-Farms. "We are thrilled to partner with senior living organizations like Asbury where we can be part of the solution for residents who are prioritizing environmental responsibility."
Babylon notes that the produce grown using a Micro-Farm™ supports environmental sustainability by:
requiring just 15 square feet of space compared to 2,000 square feet of farmland
using 88.4% less water, 4% less fertilizer, 87% less single-use plastic packaging, and 99% less transportation
producing 76% less food waste
"Over the past six years, Asbury has significantly reduced its energy and water use through a partnership with Sodexo, and many Asbury residents have started their own initiatives around recycling, helping the Chesapeake Bay watershed, and supporting wildlife," says Todd Andrews, President of Asbury's Continuing Care Retirement Communities Division. "We are excited for this opportunity through Babylon to help the earth – and enhance the dining experience."