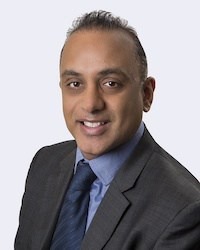 FREDERICK, MD — Nick Patel has been named President of The Asbury Group – Integrated Technologies, and started his new role in April. He has more than 15 years of experience in finance, accounting, operations and sales management in both domestic and international markets, including with Fortune 500 companies, and comes to The Asbury Group with a proven history in delivering results and customer satisfaction. At The Asbury Group – Integrated Technologies, Nick will be responsible for the growth of the organization's business as well as the strategic, tactical and operational planning and execution of technology hardware and software initiatives and programs.
Nick joins The Asbury Group from CompuGain, a global provider of business solutions, technology consulting services and outsourced project services, where he served the previous seven years, first as CFO, then was promoted to COO in January 2016. In his COO role, he worked directly with the CEO and Board to leverage and expand CompuGain's global footprint to drive operating efficiency and create a scalable path for the company to expand. He also led the effort to drive revenues through a five-year growth plan, while also spearheading strategic and mutually beneficial alliances with companies such as Microsoft and Accenture.
"Nick immediately stepped into this role ready to further our strategic goals and support the growth of The Asbury Group – Integrated Technologies and The Asbury Group portfolio of services as we continue to incorporate and enhance technology and innovation for those we serve," said Michael Hollen, president of The Asbury Group.  "The timing for his addition to our team, combined with his past success in leading corporate financial and operational initiatives, fuels our confidence that we are ready to take another important step in the evolution of The Asbury Group towards growth and innovation for the future. He will help broaden our approach to services and position us as a provider of choice for technology solutions in our industry and beyond."
Previously, Nick served as a Senior Advisory Consultant with Fannie Mae, and has also held various leadership roles at Freddie Mac, MCI, Sprint/Nextel and the Associated Press.
Nick received his Bachelor's degree in Management from the University of Manchester School of Business (U.K.), and he is a Certified Public Accountant (CPA). He will be based in the Asbury Support & Collaboration Center in Frederick, Md.
The Asbury Group – Integrated Technologies is part of the service offerings under The Asbury Group, Inc., an Asbury Communities, Inc. company. Backed by Asbury for more than 12 years, The Asbury Group has used its unique insight in offering provider-based services as well as consulting to deliver real-time tested solutions and services challenges for senior living providers.
Contact:
Eric Anderson
Director of Communications
C: (240) 506-5759 or [email protected]