Resident Art Exhibit Opening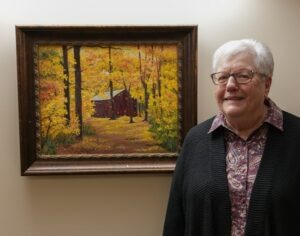 On the June 10, the Bethany Village Arts Committee hosted an opening reception for their first exhibit open to the public.
The collection of 35 paintings from the Seven Lively Artists group are on display at Bethany Village through July 11. One of the longest-running groups in the country, the Seven Lively Artists, began in 1956 when seven graphic artists who worked in the Greater-Harrisburg, Pa. area would meet weekly to have lunch and paint. The group continues today.
"I'm so happy with the response," says Marcia Marsh, a member of the Arts Committee who helped to assemble the collection. "Everyone loved the exhibit — especially the artists." Among the 40-plus guests were current members of the Seven Lively Artists.
Marcia and fellow committee member Susan Stiller began researching the group and attended a show in in late 2021 which was displaying works by the current members. There, they met two members of the group, and the show evolved from there.
"This has grown into something much more than we ever thought it would be," says Marcia. "We're so grateful."
The Bethany Village collection includes 10 pieces from four original members of the group — works even current members of the group have not seen. "We have some amazing pieces here," says Marcia, also an artist. "It's quite the collection…"
The Seven Lively Artist paintings are part of a 1,500-piece collection of art donated by Bethany Village residents over the years.
The nine members of the Arts Committee divide their efforts between the East and West buildings on campus, changing out the paintings about every two years. Barely a day goes by when someone doesn't stop Marcia to tell her how much they love looking at the paintings: "You don't realize how much we affect other people. It really makes a difference."
The paintings are prepared for display in the arts and crafts room in the East building. Committee members can re-frame, re-mat and do minor repairs there without leaving campus.
The Arts Committee began with the primary objective to decorate the East building with resident works. But, when the committee discovered the wide range of artistic talents and community interest in the arts, the committee's role expanded.
"There is a tremendous amount of interest in the arts here," says Marcia. Along with painters and musicians, the campus also has an active chorus. "We're not professionals, but we really enjoy what we do," she adds.
And, after all, isn't that what it's all about?