RiverWoods Veterans Day 2022 Parade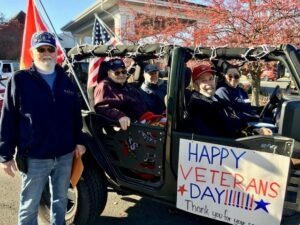 Thank you to The Daily Item for its feature on RiverWoods' 2nd Annual Veterans Day Parade. RiverWoods senior living is located in Lewisburg, Pa. The parade features residents from all levels of living and associates who have served in the U.S. Armed Forces, and this year included four WWII veterans.
Special thanks to State Rep. David H. Rowe, who gave the keynote address, the Lewisburg High School Band, and American Legion Post 182 for participating.