The Value of Community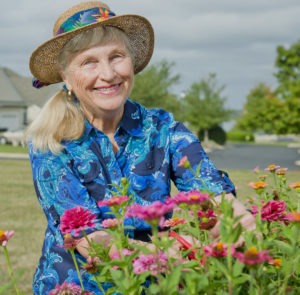 As we continue to work through the challenges that COVID-19 have brought to our world, the value of being part of a continuing care retirement community has never been more evident.
We have redoubled our commitment to providing a safe living and working environment, and as part of that, our campuses are currently closed to all but essential visitors .
Our retirement counselors, however, have a variety of ways to help you get to know our wonderful communities. They include connecting via FaceTime or Skype to chat in person or show you around our campus virtually. Contact us and let us walk you through a website tour of residents stories and videos, campus photo galleries, informational articles, virtual tours and more.
The value of community living and support
All across the Asbury system of communities, associates are pulling together to ensure residents' needs are being met today and to anticipate everything that may be needed in the coming weeks. Whether residents are living independently in an apartment or home, or are receiving health services in assisted living or skilled nursing, they know that there is a team of people behind them.
We continue to hear examples of associates and residents collaborating within our safety precautions to stay in touch and engaged. From virtual fitness classes to resident-run iPad classes being held via Apple Messages to staging our own version of a visit from the ice cream man, we all have our thinking caps on and are looking for ways to lighten and brighten this challenging situation. And as states continue to tighten restrictions on leaving our homes, residents have the security of knowing that food, medication, and other resources are on hand, and, that associates can help facilitate deliveries and bring them family care packages.
Recently, the President and CEO of Asbury Communities, whose mother lives at our Mechanicsburg, Pa., community, sent him a text relaying a call she'd just had with an associate and telling him what an "unbelievable, great team" he had. Not long after, an adult child reached out to us to share that when she asked her mother to come live with them during the COVID-19 disruption she was told, "I'm staying. I'm in the safest and best place I can be."
Connecting amid physical distancing
We'd like to share just a few of many examples of associates and residents pulling together to remain connected and engaged despite our physical distancing precautions and visitation limits:
Asbury Place Maryville created a spring bingo challenge with creative ways to keep body and mind active while staying safe
Asbury Place Kingsport is delivering daily riddles via email that some residents are working with family members over the phone
Associates at our assisted living and skilled nursing centers are setting up dozens of FaceTime and Skype chats, virtual birthday celebrations, and facilitating family sidewalk visits. Said one resident's son, "If we didn't consider you guys to be family members before this, we sure do now!"
Asbury Methodist Village is busy filming and broadcasting fitness classes from its on-campus TV station, as well as a bi-weekly wellness show for residents of Kindley Assisted Living
Asbury Solomons is hosting weekly meditation classes on Facebook Live
Bethany Village created a birthday party in the hallway for a resident – maintaining plenty of physical distance
Normandie Ridge is hosting balcony drum circles and posting messages from residents to family members on Facebook
RiverWoods is continuing their popular hymn sing via livestream on the campus TV station
Springhill has created a station where residents can come pick up adult coloring books, brain teasers, and puzzles – and recently set up a roving 'ice cream truck' that went door-to-door
Residents are doing what they can to make a difference during the COVID-19 challenge. A former law school dean has turned his apartment den into a virtual classroom where he is teaching a course on American criminal law to students of the School of Transnational Law at Peking University. See more about his work here. Residents have joined the national campaign to sew masks for health care workers. A conservationist at one community shared a live feed of eagle hatchlings via the community's Facebook page, while another is posting #stayathomesavelives daily games.
We truly do view one another as family here, and we look forward to welcoming you to our family in the near future!
Visit us on Facebook for more stories.
Learn more about Asbury Communities' COVID-19 response
View a message from our President & CEO