Under Construction: Springhill's New Aquatic Center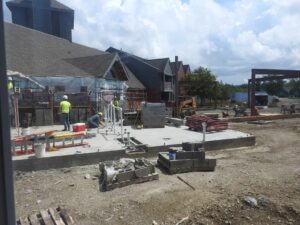 Springhill is making quick progress on the Dr. Robert and Marilyn Bernhard Aquatic Center. Earlier this year, the community met the fundraising goal of $1.8 million, and in April broke ground on the new pool and amenities. Springhill is proud to place a strong emphasis on whole-person wellness. With the addition of our aquatic center and the subsequent outdoor recreation area, Springhill will continue to set the standard in the Erie region by creating wonderful lifestyle opportunities for older adults.
Crews are out daily to bring this new addition to life, often with residents and associates watching from nearby café windows. Director of Facilities Lou DePalma shares, "The E.E. Austin & Son construction crew has been hard at work and has been great to work with. Each week I receive an update of their plans, and we are staying in close contact to keep the project on track."
Springhill resident Santina Gorndt says seeing the construction every day has been exciting. "Many felt this project would not come to fruition, and yet we have evidence every day that soon we all will be enjoying the benefits of our new therapy and aquatic pool!"
We anticipate the new aquatic center will be completed in the Spring of 2020 and are looking forward to making a splash on campus with our grand opening!