Asbury, Brigham Women's Hospital Study Wearable Technology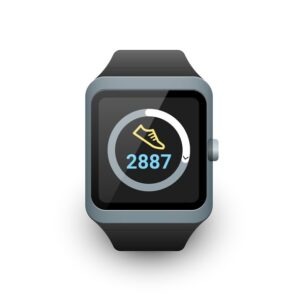 The research confirms it: it's time to get moving again! For many of us, movement and activity declined during the pandemic years. But a recent study by Asbury and ThriveWell Tech in partnership with Brigham and Women's Hospital and Harvard Medical School demonstrated the need for increased movement among assisted living residents.
The study examined the feasibility of wearable monitoring technology in tracking activity and falls in assisted living residents.
Using a wearable wrist band provided by Best Buy Health, 20 residents of Kindley Assisted Living in Gaithersburg, Md., recorded their physical activity in real time for two weeks in August 2022. ThriveWell Tech, a senior living IT solutions provider that is a subsidiary of Asbury Communities, helped to capture the real-time data streaming from the wrist bands. The data was then sent to Harvard researchers where analysis took place over a period of five weeks.
"We are thrilled to be a partner in this important study that examines the role that wearable technology can play in the quality of care for residents," says Nick Patel, President of ThriveWell Tech.
Increasing activity in assisted living
The study provided difficult-to-measure metrics on residents' movement and level of activity and indicated that the average number of residents' total steps per day came in below the recommend minimum for healthy older adults.
"The movement findings from this study were extremely helpful," says Sue Paul, Senior Director of Well-Being and Brain Health for Asbury Communities, and the principal investigator for the study.
"We suspected that residents had experienced a physical decline due to the COVID-19 pandemic, but we did not know the extent," Sue says. "Now we have a baseline to measure from as we implement our new well-being program, EngAge Well."
The study supported the creation of Move More, one of the central tenets of Asbury's EngAge Well initiative. Move More is an initiative designed to help residents meet the minimum standard of 6,000-8,000 steps per day and 150 minutes of moderately intensive exercise per week. Asbury has invested in four S3 balance frames at Kindley Assisted Living to increase the opportunity for residents to safely engage in standing and balance activities. It also created a wellness gym that will provide one-on-one personal training for residents.
"All of this is because of the study," says Sue. "Movement is booming."
Study shows feasibility of wearables
Physical activity and falls are important factors in health status. Monitoring the activity of residents provides valuable information and opportunities for intervention when activity levels decline. Wearable trackers show great promise in improving overall health. And usability challenges such as discomfort and the perceived loss of privacy were not an obstacle in this trial.
The results show that 90 percent of residents were able to wear the wrist device for the full two weeks of the study and that the data quality collected was good. Participants indicated that learning to use the device was easy and that they felt secure about the privacy of their data. More than half of the participants also felt that sharing their activity data with Kindley staff would improve their quality of care.
"This tells us that it is feasible to do this type of activity monitoring in assisted living," says Patti Dykes, senior nurse scientist and program director at Brigham and Women's Hospital Center/ Harvard Medical School's for Patient Safety, Research and Practice.
"Knowing that older adults are not only willing to use a wearable, but understand their value, is huge for an industry that relies on inadequate data collection procedures," says Sue. "Wearables track metrics in real time which is difficult for most clinicians due to time and resource constraints. Letting a watch do that work is a no-brainer."
For questions about this study, contact Sue Paul here.