Asbury, Michael J. Fox Foundation Partnership Advances Brain Health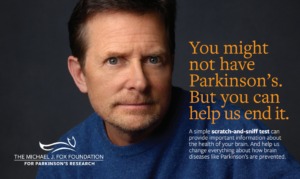 Have you ever been told you have a great sense of smell? Or a terrible one? People's ability to detect smell varies significantly, and that's normal. But sometimes, as we age, we can experience a dramatic loss of smell.  This can happen for many reasons, including as a result of COVID-19 or another illness. But did you know that 100% of major brain disorders have some association with smell loss? The connection between smell loss and neurological conditions such as Parkinson's Disease is now under investigation, and Asbury residents are helping move this science forward.
After a Parkinson's diagnosis, many people have reported losing their sense of smell years or even decades before. Scientists do not know why this smell loss occurs. What if we could predict the onset of Parkinson's by tracking smell loss in older adults?
A landmark study by the Michael J. Fox Foundation is exploring this link toward prevention. In recognition of Asbury's focus on brain health and well-being, scientists there have reached out to Asbury Communities seeking to find "100,000 noses" to participate in a massive smell loss study.
The Michael J. Fox Foundation has been a leader in the field of Parkinson's research for many years. They are dedicated to finding a cure, and to ensuring the development of improved therapies for those living with Parkinson's today. Asbury Communities is a leader in the field of senior well-being and brain health, combining the very latest science-based brain wellness practices with cutting-edge neurocognitive assessment and brain-training tools. Through generous donor funding from the Asbury Foundation, programs and facilities to encourage brain health are now a feature across Asbury communities.
To participate in the Michael J. Fox Foundation study, Asbury residents are invited to take a simple "scratch-and-sniff" test. Participants smell each page in a booklet of scents, and then upload their responses to an online database. If researchers find key results in a person's answers, that participant may be invited to participate in a long-term study.
Sue Paul, Senior Director of Well-Being and Brain Health for Asbury Communities, states, "With our system-wide Kinnections Brain Health programs, and the multi-million-dollar Rosborough Brain Health and Wellness Center at Maryland's Asbury Methodist Village, Asbury is revolutionizing the way aging is defined. It is our privilege to partner with a world-class organization like the Michael J. Fox Foundation, who is striving to advance the science of brain health, and whose research can directly improve the lives of Asbury residents and clients."
Through partnership with the Asbury Foundation and the Michael J. Fox Foundation, Asbury is excited to continue its cutting-edge focus on prevention of neurological decline, and improving outcomes for seniors. For questions about this study, contact Sue Paul here.
Click here for more information about the Michael J. Fox Foundation study.