Mission in Motion Campaign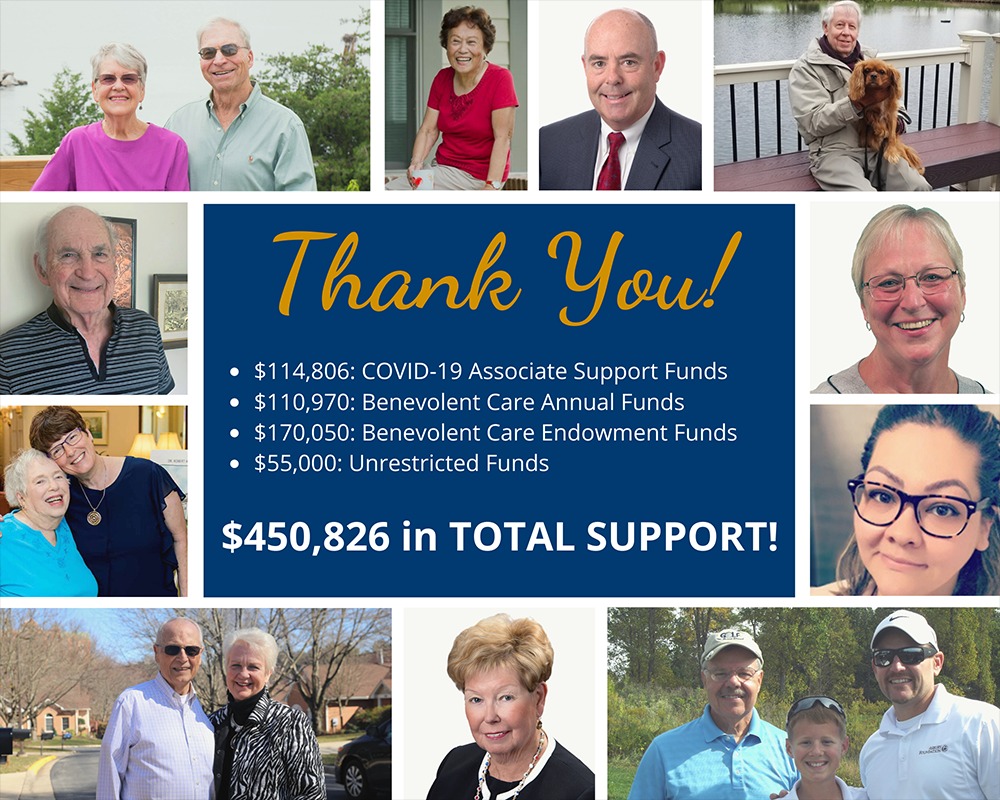 We have been so overwhelmed by the beauty of the Asbury family coming together during this challenging time. As part of our special Mission in Motion Campaign and Spring Appeal, we have witnessed residents, associates, family members, board members, and friends come together to provide for one another in incredible ways.
As Asbury continues to monitor the coronavirus situation and new developments occur daily, we find comfort knowing that generous supporters like you will always be there for our Asbury family—those who live in our communities and the associates on the front lines providing a safe and healthy environment.
Asbury's Support of Associates
Asbury associates have been working passionately to keep our most vulnerable residents safe and healthy from COVID-19. We are thrilled to be able to reward these superheroes who are confronting the virus every day, working extra shifts, or going above and beyond their normal duties to demonstrate exceptional dedication.
$505,000 "Thank You" Bonus from Asbury distributed to associates in April
$360,656 investment in associates, since March (and ongoing!), by Asbury through meals, increases, and other expressions of gratitude.
$114,806 Matching Funds from Asbury

The Asbury Strategic Ownership team was so moved by the investment you made to the COVID-19 Associate Support Funds through the Asbury Foundation, that they decided to match the investment!
Mission in Motion Donor Stories
During our special Mission in Motion campaign, we had several donors step forward to make generous and creative gifts. These exceptional donors gave through stock, entrance fee refunds, parking space deposits, charitable gift annuities, and more! On top of their tremendous philanthropic impact, they allowed us to share their stories each week. We extend our gratitude to these donors for the impact they made during this time and the inspiration they gave to others as they allowed us to share their stories.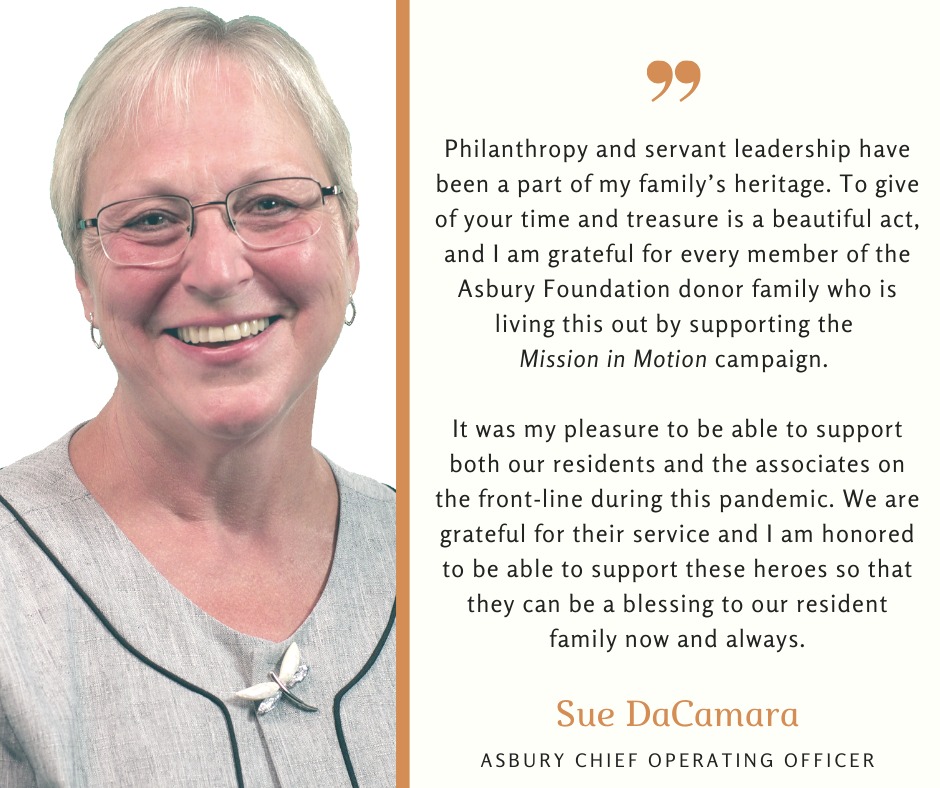 Sue DaCamara lives out the Asbury mission of doing all the good we can! Her leadership of Asbury's operations, including the COVID-19 Task Force, is critical during these unprecedented times. Sue led by example as she made the first gift to the Mission in Motion campaign, helping us to get off to a wonderful start! She supported both the Benevolent Care Fund and the COVID–19 Associate Support Fund for each Asbury community.
---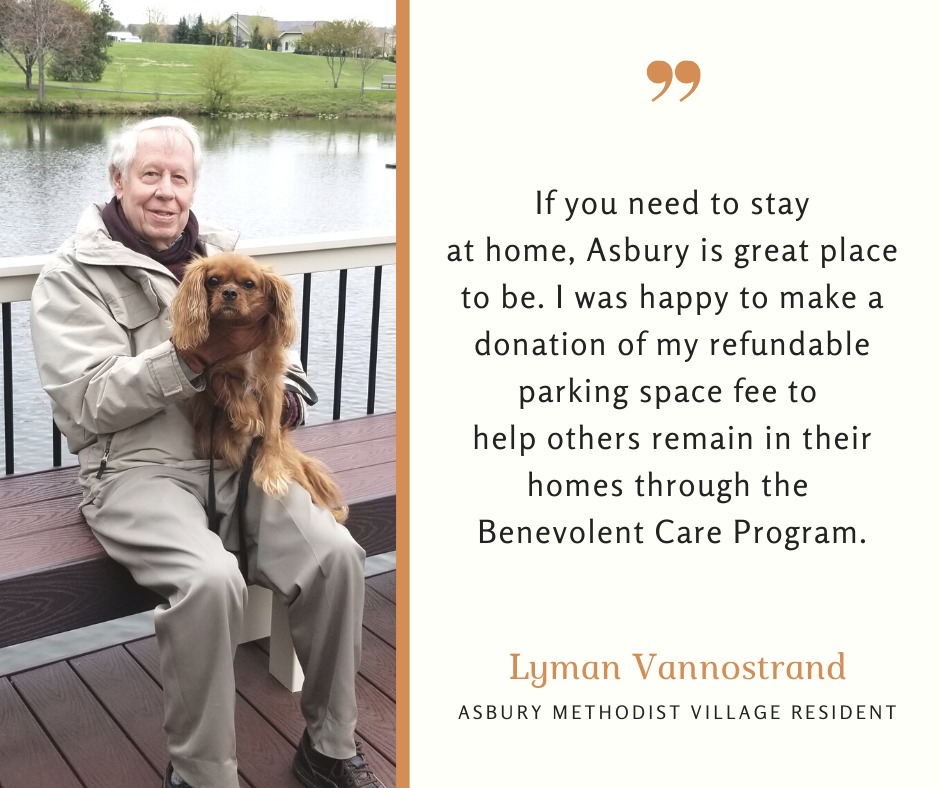 Asbury residents that have paid for a reserved parking garage space can diversify their giving and make a lasting impact at their community by donating all, or part, of their parking space deposit – and that's exactly what Lyman Van Nostrand chose to do!
Making a gift like this allows donors to preserve income-producing assets and other investments while making a significant impact on others in need. And it's easy to do! Residents can make a gift from their parking space deposit by simply signing a single-page form from the Asbury Foundation.
---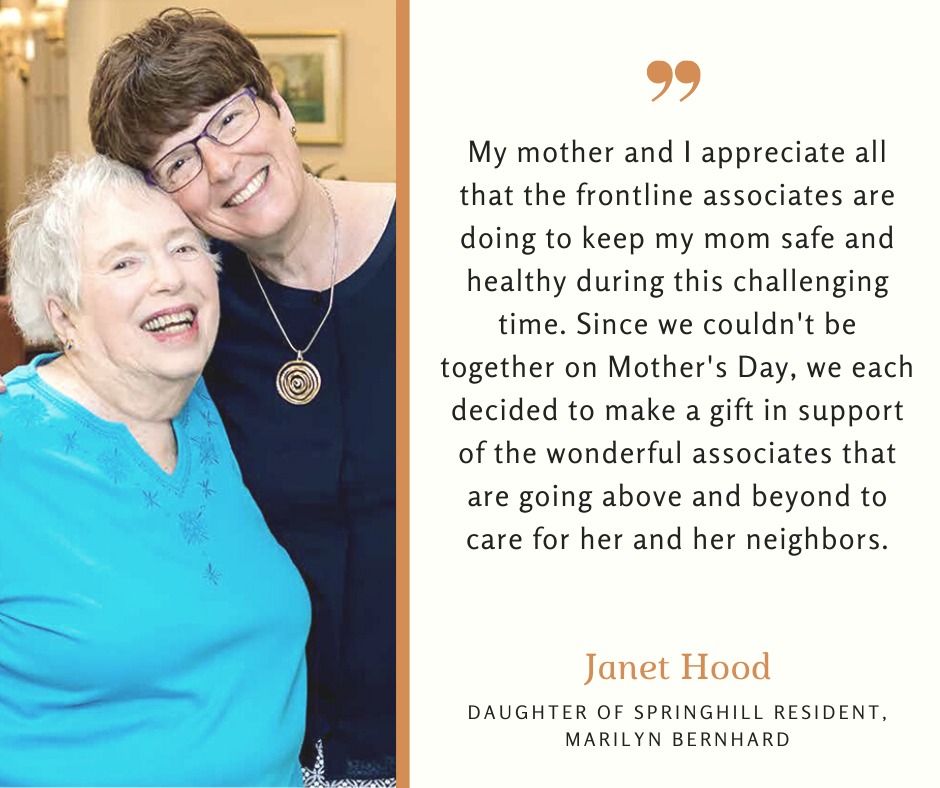 Janet Hood, daughter of Springhill resident Marilyn Bernhard, wanted to do something special for her mom this year since they could not be together. While we face these challenging times, Janet chose to make a gift in honor of her mother to the COVID-19 Associate Support Fund.
---
Lou Scheffer was able to impact both residents and associates by giving to the Benevolent Care Endowment Fund as well as COVID-19 Associate Support Fund through a gift of stock.
Lou's outright gift was able to support immediate needs as well as establish a legacy gift through a Charitable Gift Annuity (CGA). By funding a CGA, and designating his niece as the beneficiary, he setup an income stream to support her and her family for the rest of her life – Lou felt this gift was a "win-win!"
---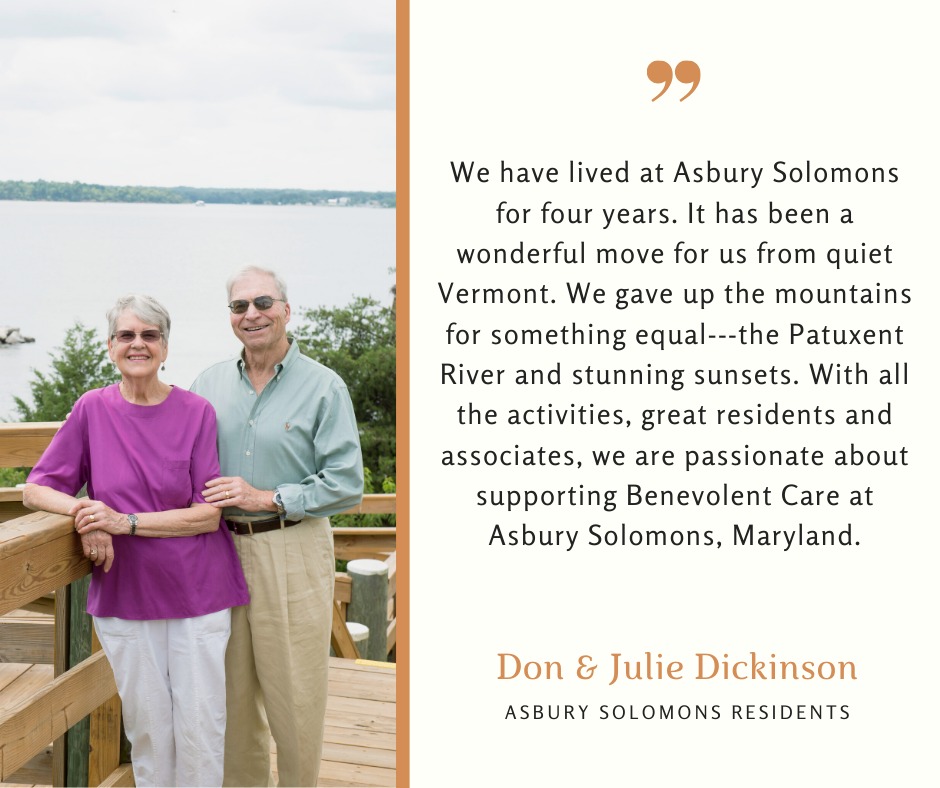 Don and Julie Dickinson made a multiyear pledge commitment to support the Benevolent Care Endowment Fund as a part of the Mission in Motion campaign. This gift will help sustain the promise of Benevolent Care for generations to come.
---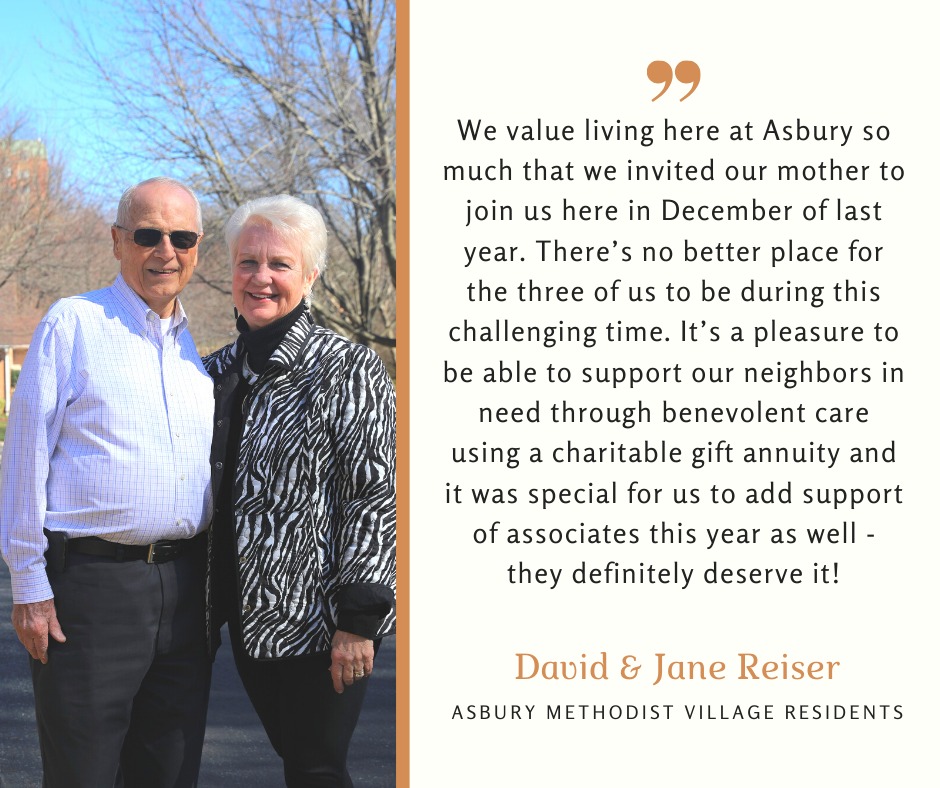 David and Jane Reiser used a blended gift option that combined the funding of their 4th charitable gift annuity (CGA) in support of Benevolent Care while making an outright gift to benefit the COVID–19 Associate Support Fund. A charitable gift annuity provides lifetime income, a charitable deduction and support for Benevolent Care, while their outright gift for associates created a generous income tax deduction.
---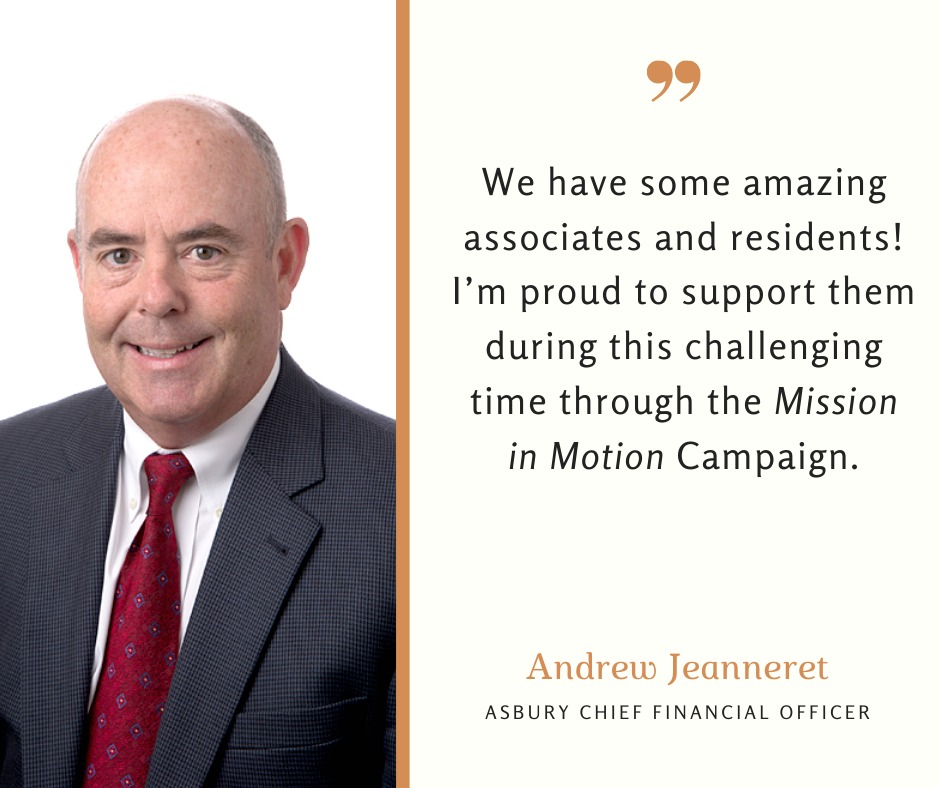 As Asbury's Chief Financial Officer, Andrew Jeanneret knows first-hand the amazing impact that philanthropy has on the Asbury family. He saw the Mission in Motion campaign as a wonderful way to support residents and associates during this challenging time. Thank you Andrew for being an example for us all of "doing all the good you can" and enhancing the lives of the Asbury family!
---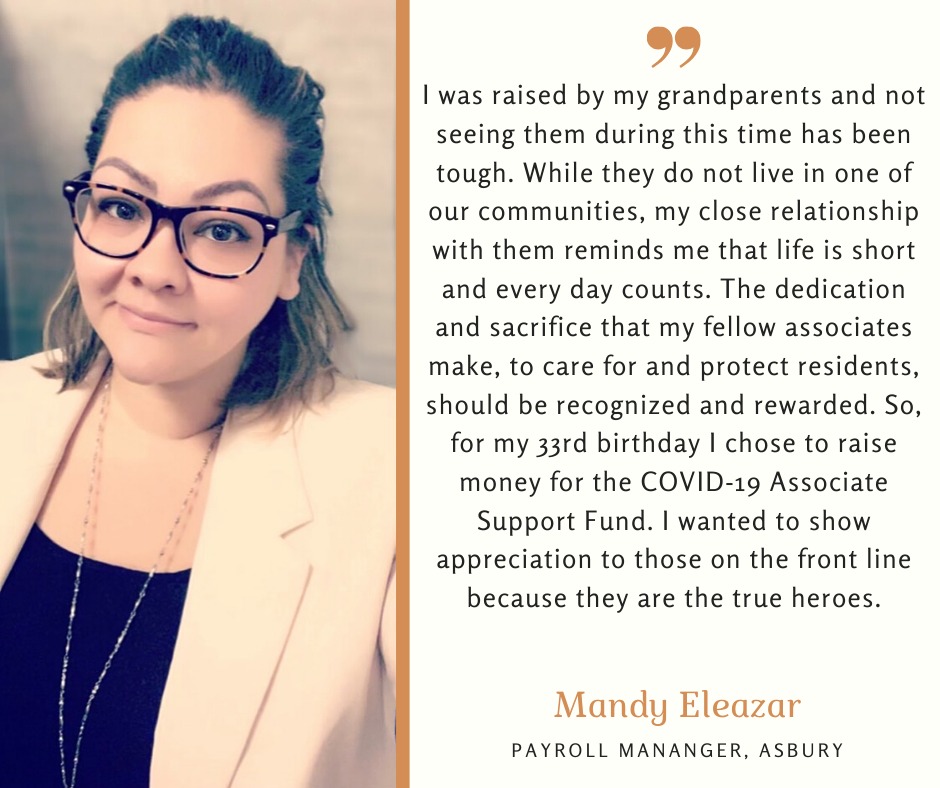 Asbury's Payroll Manager, Mandy Eleazar, was inspired by her fellow associates working on the frontlines at our communities. Having been raised by her grandparents, Mandy has valued being able to remain connected virtually (pictured here), but has felt the impact of having to physically distance from them due to COVID-19.
Mandy considers herself blessed and decided to invite others to support her associate teammates instead of sending her birthday gifts. She set a goal of securing $10 for every year of her life and her family and friends jumped at the opportunity meeting the $330 goal in no time!
---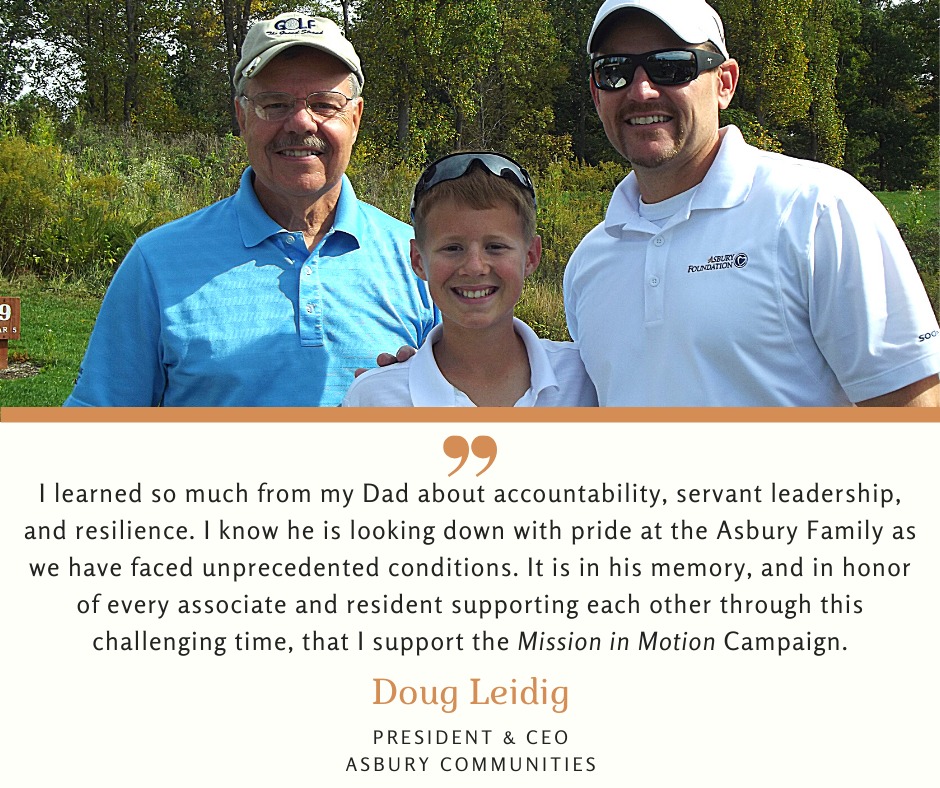 Doug Leidig's career path has been shaped significantly by his dad, Wes Leidig. His dad shared with him many lessons on accountability, responsibility, resilience, and servant leadership – all of which aided Doug throughout his career in senior living. Doug's first experience working in senior living began in his youth when he delivered newspapers at a senior living community. Since then, Doug has served in various roles in the profession, and became President & CEO of Asbury Communities in 2015.
As a way to do something special to remember his dad and the life lessons that he taught him, Doug chose to make a gift in his memory to the Mission in Motion campaign. Thank you, Doug, for honoring your dad's memory through your support of the Asbury family.
Going the Extra Mile
In addition to the amazing financial support given during this time, we have witnessed associates and residents going the extra mile, again and again, to keep spirits high. Visit the "Super Heroes Work Here" page to see all of the great work associates are doing all across the Asbury system.
Just a few examples include:
Video-Chatting Capable Tablets & TEMI Units Purchased (Special Thanks to those that gave to Asbury's Innovation & Technology Fund through the Asbury Foundation to make this possible!) Already these tablets and devices have been used for telehealth appointments, for virtual special occasions like anniversaries and birthdays, to continue "pen pal" programs, and to keep families in touch during a time when in-person visits are unsafe
Special meals and treats being delivered, or made available, to residents and associates
Creative bingo games that include calling numbers in an Assisted Living hallway, virtually on an in-house TV channel, and even using an amplifier outside for those on their patios
Virtual and Physically distanced exercise classes
And so much more!
Mission in Motion Videos
Throughout this special campaign, we have created and shared several videos: