Senior Living During COVID-19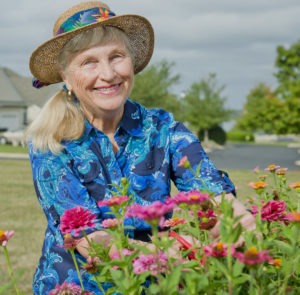 In just a few short months, COVID-19 has upended the daily routines and actions of the entire world. And for those of you who have been considering moving to a senior living community, it has most likely  caused you to have second thoughts.
"What is life like at an Asbury community these days?" you may be wondering. The short answer is not so different from your own, but with support, caring, and a focus on safety that is bringing high praise from countless residents and family members.
Residents living independently continue to follow their state's orders for safer at home and essential travel and to maintain physical distance while out for a walk around campus or if speaking with neighbors while grabbing the newspaper or mail. Some have put their sewing skills to good use by making masks for each other, to supplement mask supplies for non-clinical associates, and in one case, even donating them to the surrounding community. Our campuses remain closed to visitors, and residents are encouraged to act responsibly, safely, and with prevention in mind at all times.
The value of community
We could not be prouder of Asbury associates, who have risen to these challenging times with on-going commitment to the residents for whom they care so deeply. We invite you to view the creative and inspiring work they are doing to keep spirits high and connections strong at Superheroes Work at Asbury. We are #AsburyStrong.
Their everyday acts of kindness include delivering personal notes with residents' meals; creating rolling Ice Cream Trucks and Tiki Bars for a Friday afternoon treat; dropping off spring flowers grow kits; and moving dozens of fitness classes and events online to ensure residents can continue to participate in our wellness-focused lifestyle.
Residents, too, are adapting to a more virtual world of connections. Many are moving community clubs online via Zoom, creating phone trees to check in on neighbors, and staging online or short 'doorway' get-togethers. As state restrictions ease, we are encouraging a gradual – and safe – return to small group get-togethers.
Associates are delivering grocery and other essential orders to residents' homes – or helping them access online delivery services. Delicious meals are available via delivery from our own chefs for those who don't feel like cooking. Grocery staples with a rotating slate of fresh fruits and vegetables are available for purchase on-campus from our dining partner Sodexo.
Facilitating online birthday parties, special celebrations and family get-togethers has taken on vital importance these days. In early March, the Asbury Foundation provided additional tablets to all of our communities thanks to generous donors. Associates are helping residents who may need a bit of help with the technology to access existing services like Zoom or FaceTime or setting up tablet visits by appointment.
Asbury's COVID-19 response and plans
Throughout this pandemic, our unrelenting focus has been the health, safety, and well-being of our residents and associates. We embraced CDC and CMS guidance, best practices and infection-control protocols, and were proactive by having created an infection-control algorithm for all of our health care centers last year. We are continuing screening practices for residents, associates and essential visitors, and remaining up-to-date with regulations and governmental agency expectations.
Our response efforts are led by the Asbury COVID-19 Incident Command Center, comprised of highly dedicated and experienced clinical and operational professionals, working in coordination with the campus clinical and administrative teams. Meet our clinical leadership team.
While the federal government, as well as the three states where Asbury operates, have started announcing reopening plans, we have no immediate plans to reopen our communities to visitation at this time and we continue to operate out of an abundance of caution. We agree with public health officials who caution that the paths to reopening must be gradual, steady and responsible for prioritizing the health and safety of all citizens. Without exception, communities like Asbury are addressed in final reopening plan phases.
Our top priority is and will continue to be the health, safety and well-being of the residents we serve and the employees who perform this sacred work. The value of community and support has never been more evident as we face these challenging days together. We are a family, and we are #AsburyStrong.