Telemedicine Comes to Wilson Health Care
Wilson Health Care Center at Asbury Adds Telemedicine to 5-Star Services for Seniors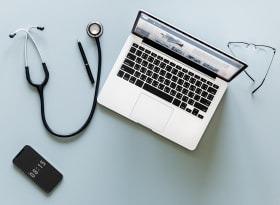 Wilson Health Care Center is pleased to announce that it has recently added the services of national telemedicine provider TripleCare to its quality programs and services.
TripleCare's telemedicine–based approach brings physician coverage directly to older adults during times when community physicians are not on site, such as overnight, during the weekends and on holidays. Incorporating advanced technology with assistance from the community's on-site nurses, TripleCare's network of highly trained physicians are able to perform virtual bedside visits and treat residents in place, in real-time. TripleCare's virtual services make it possible for its physicians to ascertain residents' conditions and differentiate between those who can be treated on-site versus those who might require a transfer to the hospital.
Wilson Health Care Center is a 5-star rated skilled nursing and rehabilitative center serving seniors in Gaithersburg, Md., offering stroke care, memory support, advanced wound care, post-acute and respite care, and long-term skilled nursing.
"At Asbury, we are committed to ensuring those we serve receive the best of care and remain as healthy as possible while living in our communities," says Sue DaCamara, chief operating officer for Asbury Communities. "TripleCare adds yet another component to our menu of service capabilities for assisting Asbury residents with whatever needs arise in their change of condition or diagnosis. By leveraging technology and including an element of care that enables physicians to be available at the bedside through telemedicine, we are demonstrating our ability to stay on the cutting-edge of the latest advancements in the healthcare arena.
"In the short time since implementing TripleCare, we have already seen improvement in resident care and comfort. We are excited to be an early adopter of telemedicine in retirement communities, and among the first continuing care communities to bring these benefits directly to community residents and their families."
"We are pleased to forge this new relationship with Asbury Communities," says Mary Jo Gorman, chief executive officer at TripleCare. Asbury is nationally recognized as a highly respected not-for-profit focused on serving residents throughout the continuum of care. This agreement affords TripleCare the opportunity to demonstrate how our services can successfully work in tandem with Asbury's on-site clinicians to elevate the delivery of care to the residents who call Asbury home, while controlling costs by avoiding both hospital admissions and readmissions."
Asbury Communities, a not-for-profit organization that manages eight continuing communities in four states and offers a range of life-enhancing services for seniors, is ranked the nation's 15th-largest not-for-profit system serving older adults.