Asbury Solomons Family Friends
General Community Information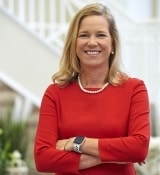 A Message from Asbury Solomons Executive Director Kelly Friedman
Asbury Solomons is proud to be part of Asbury Communities, an aging services provider with a 90-plus year legacy of redefining the expectations of aging. Ensuring that we provide a safe and healthy environment for those who work and live at our communities is our highest priority. Please scroll down to see details regarding Asbury Solomons' operations.
Asbury serves approximately 4,300 residents at eight continuing care retirement communities and home care agencies in Maryland, Pennsylvania, and Tennessee.
To learn about Asbury's COVID-19 response, including vaccine updates and more, please click here.
Across the system, we are committed to providing access to the COVID-19 vaccine for as many individuals as possible. Please view Asbury Communities President & CEO Doug Leidig's update about these efforts in the video below.
Community Services & Amenities
Mail & Online Grocery Delivery
COVID-19 Testing Information
Sanitation and COVID-19 Risk Reduction
Reopening Plans and Strategy
Important Contact Information