Quality Health Services at Bethany Village
Bethany Village is ready to meet your needs through life's challenges with The Oaks skilled nursing and post-acute rehabilitative care and a continuum that includes MapleWood assisted living, and secure memory support, too. Our expert staff is available 24 hours a day to provide personal, compassionate care. Residents of the community enjoy priority access to our health care services, our care navigation team, and in-home personal care through Asbury Home Services. The Bethany Village Health Care Center is a U.S. News & World Report 2022-2023 Best Nursing Home and Assisted Living!
Bethany Village Assisted Living is open to all seniors living in Cumberland County, Pa. You are not required to be a resident of our community and no entrance fee is required.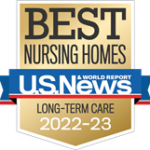 We are proud to participate in the Sodexo Helping Hands Program, which provides dining assistance training to our health care associates.
View or download the Bethany Village Health Care Center Welcome Packet.
Have questions? See our Guide to Helping Your Aging Parent.