Quality Health Services at Bethany Village
Bethany Village is ready to meet your needs through life's challenges with The Oaks skilled nursing and post-acute rehabilitative care and a continuum that includes MapleWood assisted living, and secure memory support, too. Our expert staff is available 24 hours a day to provide personal, compassionate care. Residents of the community enjoy priority access to our health care services, our care navigation team, and in-home personal care through Asbury Home Services.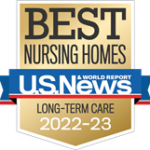 The Bethany Village Health Care Center is a U.S. News & World Report 2022-2023 Best Nursing Home!
MapleWood Assisted Living at Bethany Village has openings for seniors who are not residents of our community.  
Access our menu of health care services to learn more or Contact Us.
View or download the Bethany Village Health Care Center Welcome Packet.
Have questions? See our Guide to Helping Your Aging Parent.
Safety Measures
Associates are required to be vaccinated against COVID-19 unless they qualify for a medical exemption. Bethany Village works with regional healthcare providers and pharmacies to offer the latest COVID-19 treatments as available and indicated. Bethany Village utilizes heightened infection-control and cleaning processes, including the use of Solaris UV technology. Its pulsating UV light eliminates 99.6% of all pathogens when cleaning rooms, including COVID-19.