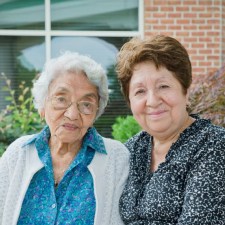 This guest post comes to us from Anne Tumlinson, author of Daughterhood.org, a blog she founded to support and build confidence in women who are managing their parents' care.
"My dad doesn't have Medicare!" a friend said to me on the phone a few months ago. "What?" I responded. Pretty much everyone over age 65 has some form of Medicare and my friend's dad is at least 90 years old, so this seemed unlikely.
"Dad has something called 'Blue Cross advantage," he said. "Ah ha," I thought. My friend's father had "Medicare Advantage," a plan offered by private insurers that seniors can choose in place of traditional Medicare.
Medicare Advantage plans often fill in the gaps of Medicare coverage, like vision or prescription drug coverage, and often at a lower price than the supplemental "Medigap" policies older adults typically buy to get these benefits and cover Medicare co-pays.
It's no wonder my friend was confused, given that traditional Medicare is a complicated alphabet soup of different parts that Congress keeps tacking onto the program.
First, there's "Part A" coverage, which pays for hospital and post-acute care, such as inpatient rehabilitation services.
Part B covers physician services and requires a monthly premium to the government that is deducted from the beneficiary's Social Security payment.
Part D covers prescription drugs, and requires signing up with a private insurer. It is commonly called a PDP, for part D plan.
Then there is the private Medigap policy that Medicare beneficiaries can purchase, which covers the stuff that is, amazingly, not included in Parts A, B, and D.
What happened to Part C you ask? That brings us back to Medicare Advantage, where you can turn all your coverage over to one plan, purchased from a private insurer. You pay your Part B premium and one other premium to the plan and you're done.
Sign Dad up, you say? Not so fast.
As with everything in the world of health insurance, this is complex. There are trade-offs and challenges in choosing Medicare Advantage.
I'm going to boil it down here. Whether or not your mom or dad is in a plan now, or if you are considering one for them, you do have power and you do have choices. Here are four things you can do to get what you need for your parents.