Down to Earth – Gardening at Asbury
Ask veteran gardener Linda Davis the secret to her 'green thumb' and she will mention "learning some soil science and reading the clues plants give as they grow."
A genuine horticulture hobbyist, Linda has kept a garden most of her adult life. And when she and her husband Winston began considering a move to senior living, Asbury Methodist Village's 'perfect' community gardens factored almost as heavily into their choice as the breathtaking campus and maintenance-free living in Gaithersburg, Md.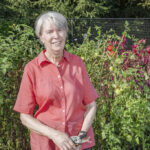 It was late springtime when Linda first walked among the daffodils, peonies, and roses that dozens of Asbury residents lovingly tend in their large plots – along with an incredible array of fruits, vegetables, and grains. "I was so touched. It was better than the garden at my house!" she says. "They are situated in a great place – good sun exposure, good soil, and a deer fence."
Health benefits galore
Gardens improve more than the appearance of Asbury's communities; research links gardening with health and emotional benefits. In fact, studies show it is one of the best low-impact activities for seniors, helping maintain – or even increase – flexibility and strength and reduce the risk of injury and osteoporosis.
Because gardening is a peaceful, engaging activity, it can be very therapeutic, helping relieve emotional stress. And experts say it can provide a therapeutic outlet for people with Alzheimer's.
What's more, it's a fun way to make new friends. "My friend Marilyn and I (have) shared tips about corn growing, including solving problems, trading info about varieties of corn, harvesting, and processing for various recipes. She even loaned me her corn grinding mill when I was trying to grind it for cornmeal and tortillas," says Linda.
Marcella Hayes, a 95-year-old gardener and cottage resident at Asbury Solomons, has been providing friendship, inspiration, and education for less veteran gardeners for decades. One of them, Dolly Merritt, recently published an article about Marcella in a local newspaper. Her best tip: adding a teaspoon of Epsom salt in the soil with tomato plants to enhance flavor.
Varied species
In addition to resident-maintained community gardens, Asbury Solomons, which is located on the Patuxent River in Southern Maryland, also added a sensory garden to its assisted living and health care center where residents maintain bird feeders and help plant herbs and flowers.
Across Asbury, you'll find gardens as varied as the people who make each community their home. Springhill, in Erie, Pa., has a large butterfly garden that was the brainchild of a resident and entomology professor. Residents help maintain its masses of bee balm, swamp hibiscus, milkweed and more, while enjoying the sight of Asian swallowtails, monarch butterflies, cabbage white butterflies and bumble and honeybees.
Woodshop club members also built large, extra-tall raised beds where residents plant tomatoes, basil, and a changing menu of items each season.
Bethany Village has popular community gardens on its large Mechanicsburg, Pa., campus. Members of the community's ecology group maintain a Healing Garden for residents of skilled nursing that is named in honor of former nurse and resident, Marian Dornell.
At Asbury Methodist Village, residents have fun competing to see who can grow the most, largest or first of something – a contest that Janet Neumann won this year with the first tomato of the season.
At Normandie Ridge, located in York, Pa., residents also maintain a Serenity Garden, created for nursing residents to enjoy the outdoors.
Something you'll see across Asbury come summer and early fall are baskets of vegetables and bouquets of flowers at various places around the community and free for the taking.
Growing your green thumb
Whether you're a novice or veteran, your gardening skills will probably be stretched with communal gardening, as you see what neighbors are doing.
Linda Davis, for instance, put her keen interest in 'soil science' to the test planting, growing, and harvesting wheat. "I have grown it four times. We plant in the fall, harvest in June. Asbury has some old greenhouses in another part of campus, and I dry the wheat slung over bamboo poles. Then we bring it home and thresh and winnow it in the kitchen," says Linda.
"My husband has taken over the bread-making. He's very good at kneading the bread and slamming it down on the counter!"
Inspired? Contact us and we'll put you in touch with our garden clubs or resident gardeners to learn more about each campus's garden and green space offerings. Green thumbs thrive at Asbury!