Guide for Comparing Assisted Living Communities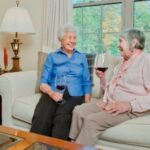 Although assisted living is not a subject we're eager to think about, embracing supportive services as we age is often the best way to maintain an active, independent lifestyle.
Knowing as much as possible about your local assisted living communities before an emergency arises is the best strategy, especially if they have waiting lists. When you tour, keep these five things in mind.
1. The community's environment
The lobby, common areas, dining rooms and hallways should be odor-free, clean and not cluttered with unattended carts, wheelchairs and other objects.  Look for residents who are out and engaged, having conversations with each other or staff or attending resident programs. Program calendars should address all the dimensions of wellness – social, physical, intellectual, and spiritual – and you should see flyers promoting upcoming events.
2. Staff interactions with residents
The key word here is dignity. Are staff members calling residents by their names and talking to them in an adult, respectful manner? Are they interacting with residents they pass in the hall in a way and offering assistance to someone who looks like they may need help? Do they knock before entering someone's room?
3. Staff credentials
Ask whether all of the community's caregivers are credentialed, either at the geriatric nursing assistant or certified nursing assistant level and above. Staff should include registered nurses and delegating nurses, which have credentials above the RN level and provide full care management for residents.
4. 'Extra' charges
At some communities, all utilities, housekeeping, laundry, meals and basic care needs such as medication management are included. Some communities charge a la carte for services. For instance, housekeeping and utilities may be excluded. There may be a meal allotment. And if you require medication management, there may be an extra fee for each medication administered. Ask the admissions counselor and read the fine print.
5. Understanding level of need
If a parent or loved one is not able to feed themselves or are facing significant cognitive declines, they may need a more structured setting than assisted living communities can provide. A good rule of thumb is that someone should be able to be safe for several hours on their own – to know that if there's a fire, they need to call for assistance, or that they have trouble standing and need to call someone for help before they get up.