The Importance of Updating Your Beneficiary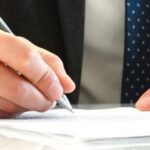 It is such an easy thing to forget. Each time you establish a new account, amid the slew of paperwork is a seemingly innocuous entry field that can have a major impact down the road: the beneficiary designation.
Mark Davis, an attorney with Davis, Upton, Palumbo & Dougherty in Prince Frederick, Md., suggests that you review all beneficiary designations on your accounts to ensure they align with the intentions of your will and broader estate plan.
"Any investment accounts, retirement accounts or life insurance policies that have a beneficiary designated will pass directly to the beneficiary upon the death of the owner of the account or policy and will not be controlled by the terms of the will or any trust," Mark says.
Of course, the ability to avoid probate(the legal process by which an estate is distributed based on the terms of a will) can be an appealing reason to make use of the beneficiary designation. It is one of the simplest ways to pass assets to a relative or charity. But its simplicity also has the potential to derail your intended estate distribution since it will override other provisions in your will.
Say, for example, you have net worth of $600,000 and create a will stating that a third of your estate should go to each of your two children and your favorite charity.
However, an investment account worth $400,000 lists only one daughter as the sole beneficiary, so that asset transfers directly to her. This leaves only $200,000 to be divided among the three intended recipients.
Gary Altman, an attorney with Altman & Associates in Rockville, Md., says that outdated beneficiary designations can often lead to the wrong person receiving an asset, or a lengthy court case to sort out the matter.
"One of the biggest mistakes people make is not keeping their beneficiary designations up to date," Gary says. "Too many times a former spouse or someone else is named as the beneficiary when that is no longer appropriate."
After consulting with your financial professional, making changes to beneficiary designations can be quite simple. Many accounts allow you to see your beneficiaries and make changes through a form on their webpage. Or you can contact the institution to ask for the paperwork.
A final step is to notify your intended beneficiaries about which accounts they will be receiving and who your contact is within the institution. That way, you can be sure there won't be an unnecessary delay or confusion when the account is distributed.