71-Year-Old Retiree Says "Yes" to Cycling Tour & Incredible Journey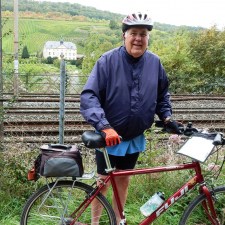 By Lowell Starling, Bethany Village resident
What happens when a 71-year-old who hasn't ridden a bike in 30 years say "yes" to an invitation to embark on a 7-day European Bike and Barge tour? He gets in better shape and has the time of his life!
Last summer, my good friend and golf buddy Larry asked me to join him on a VBT Tours cycling trip. (VBT hosts cycling and walking tours worldwide.) Larry has taken a number of these trips and was looking for a partner. Knowing that my wife prefers traveling when the grandchildren are involved – and his wife no longer enjoys flying – I seemed like the perfect choice.
The only hitch: while I play golf regularly and work with a personal trainer, committing to a vacation centered around 20 to 30 miles of cycling each day was a little daunting. Fortunately, I had my very own Tour de Lowell volunteer training corps at Bethany Village, the retirement community where my wife and I live.
The sore seat challenge
Larry loaned me a bicycle, and as soon as the weather got warm, I begin to train with short rides around the Bethany Village campus. I soon learned that endurance on a bicycle does not necessarily come down to leg strength or cardiovascular conditioning, but how long your rear end can endure sitting on the tiny, hard, seat!
During a lunch at Bethany Village, I mentioned my upcoming trip. Fellow resident LeRoy Erickson said he and his wife had taken these tours in the past and volunteered to help me train.  So, now we had an 86-year-old training a 71-year-old for a bicycle trip!
I spent the summer riding three to four times a week.  In the weeks leading up to departure, Leroy and I were logging anywhere from 10 to 17 miles on each ride. I also decided to take some solo training rides focused on hills, but on a ride labeled easy, I learned I needed a lot more training in that area.
Trip total: 150 miles cycled
On September 30, Larry and I took to the skies and landed in Frankfurt that night. The next morning we flew to Luxembourg and our cycling adventure began. The tour offered days with short-, mid- and long-mileage options, and I spent two of my afternoons cruising the Mosel River on our barge alongside our fellow cyclists and cheering them on. In seven days I logged 150 miles, with short days totaling 20 miles and long days around 33. Larry took the long-option challenge and ended up riding 190 miles.
An intimate look at the Mosel Valley
Seeing the countryside up close and personal from a bike was a unique experience that gave us an intimate view of parts of Luxembourg, France, and Germany you don't see on city tours or cruises. Our tour group was a fun mix of people of different ages and fitness levels. There were at least 7 of us in our 70s, while the oldest will be 80 in January.
The food and wine was a higlight of every day, and thanks to all the physical activity each day brought, it was guilt-free! Our VBT Tour leaders and the city tour guides were outstanding, teaching us so much about the history, culture, and geography of the Mosel Valley. I was thrilled to have been able to accomplish the trip despite being a casual biker.
Below, I've shared a travelogue of my trip and a few of the many, many beautiful photos I took along the way!
Lowell Starling is a resident of Bethany Village, an Asbury retirement community in Mechanicsburg, Pa., and is a member of the Asbury Communities Board and Governance Committee.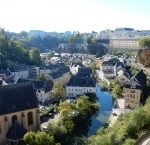 October 1
We checked into our hotel in Luxembourg and found an Italian restaurant near the hotel with the menu in Italian and no English-speaking staff. Our food was delicious. We were both exhausted from the overnight flight, so we took a brief nap and spent the afternoon exploring the Old City of Luxembourg. Dinner was in a gourmet Chinese restaurant where we had some of the best Chinese food I have tasted. My Fitbit logged over 12,000 steps.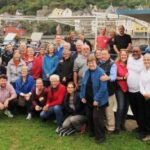 October 2
Most of our tour group met for the first time at breakfast in our hotel. Afterward, we met our guide for a walking tour of Luxembourg City. The country of Luxembourg was once nearly four times as large as it is today. Multiple treaties gave land France, Germany and Belgium. After the tour Larry and I visited the Bock Casements, tunnels carved out of the cliffs to house soldiers and cannons. For years Luxembourg was considered the Gibraltar of the North. Dinner was at the Michelin-starred restaurant, La Cristallerie, and I learned what that designation means as we enjoyed a fabulous meal. My Fitbit logged nearly 20,000 steps.
October 3
We drove to the American Cemetery in Luxembourg where more than 5,000 Americans are buried, most from WWII. General George Patton is buried here.
From there we drove to Metz, France, where we toured the city and the Cathedral of St. Etienne, a gothic structure dating from around 1250. It has nearly as much stained glass as the size of a soccer field, some dating to the earliest days, and some done in the 20th century by Marc Chagall.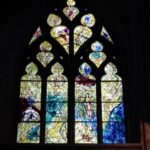 After the tour we walked to where our barge the Iris was moored on the Mosel River. Our four-person crew included the Captain, First Mate, Chef and Hostess. They provided a great experience to their customers. After a short cruise down the Mosel, we met  the VBT Tours van and set off on a 5-mile "warm-up" ride to learn the bikes and how to follow the trip notes. We met up with the Iris across the river from Thionville, France, and re-boarded the Iris for a welcome drink, round robin introductions, and dinner.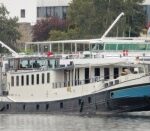 October 4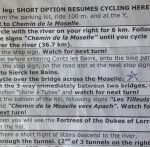 After breakfast and a briefing on our route directions, we set off.  The ride had four legs of differing lengths. The first and last were on bike paths along the Mosel and were relatively flat. The second leg headed up into the hills to the medieval walled town of Rodemack, France. We had an option to do that leg in the van. I decided to ride it and made it up the first hill but walked up the other two. I did the day's long option totaling 33 miles. That may not have been my best decision ever as I was tired and sore. These directions may look complicated, but we were usually traveling on designated bike paths.
October 5
After breakfast and a tour briefing, we visited a local museum housing the largest Roman mosaic in Europe. We biked 19 miles along the Mosel on the Route du Vin or "wine road" to Oberbillig where we had lunch on the Iris. After lunch I stayed on the Iris enjoying some of the local Riesling wine while we cruised up the Saar River to Saarburg. Larry kept biking and logged 34 miles that day.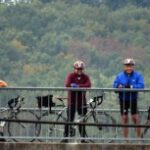 Here, Larry stands with some of our tour group overlooking one of the locks on the Saar River.
I snapped a photo of the lock opening. Many of the elevation changes in the locks were 40 feet or more.
After the bikers met the Iris in Saarburg, we toured the town on our own and met for dinner in a local German restaurant. Saarburg has its own castle, pictured.
October 6
As we cycled along the Saar River, we watched the wine harvest taking place on the steeply sloped hill sides leading down to the river. Some of it was done by hand and some was mechanized with specialized small tractors that could fit between the rows of vines. It was hard to understand how people could work at all on the steep slopes.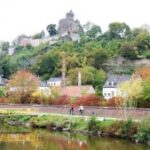 We met the barge at Konz, and then cruised to the town of Trier. The Romans founded Trier in 17 AD when they built a bridge across the Mosel.  This Roman amphitheater once held as many as 20,000. We had the unique opportunity to tour the basement and see the stone walls and wooden beams which held up the floor. We also saw the remains of the elevator shaft that carried animals and gladiators to the arena.
October 7
The barge cruised from Trier to Schweich during breakfast. From there we biked along the Mosel, stopping at a restored Roman wine press. After lunch at Neumagen, we biked to Bernkastel-Kues to meet the Iris. That day Larry and I biked a total of 33 miles along the Mosel. After dinner on the Iris we walked to the winery of Anton Zimmerman where his son Joseph conducted a wine tasting of their pinot noirs and rieslings and gave us quite an education on wine production and quality control.
October 8
By bus, we traveled from Bernkastel-Kues to Daun in the hills of the Eifel region of Germany (ancestral home of the Eiffel Tower designer). Our ride back to Bernkastel-Kues was the trip's longest, and while most of it was downhill or flat along the Mosel, I opted out of the second leg that involved a number of hills. That night, we wandered through the city and enjoyed dinner in a great German restaurant.
October 9
This was our last day of cycling along the Mosel. We cruised by barge to Traben-Trarback, which at one time was the world's second largest wine trading center. From there we cycled along through Punderich to Zell, where we had our picture taken in front of the statue of the snarling "Black Cat." Allegedly, the cat would stand atop the best barrel of wine blends, so that is what the region is known for today. According to our tour leaders, it is a great story, but not so great a wine!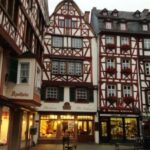 We met the Iris in Beilstein and cruised to Cochem that afternoon. That night we had a farewell dinner on the Iris.
October 10
This morning we said goodbye to the crew of the Iris and Ferry, and walked into Cochem with our tour guide Axel. There, we toured the Reichsburg Castle, which was originally built around 1100 AD, but has been destroyed and rebuilt multiple times. Here is a picture of me and my new best friend, guarding the castle. After, we boarded a bus to Koblenz where the Mosel enters the Rhine River. We toured the town and had dinner at a restaurant on the Rhine River. We called it a night early since we had a 6:20 a.m. shuttle to the Frankfurt airport for the flight home.