Skilled Nursing Care for Seniors in York, PA from Experienced Professionals
The Nursing Care Center at Normandie Ridge provides quality, 24-hour skilled nursing care for seniors, with person-centered services considering your unique needs and preferences.
Our experienced nursing care team includes licensed caregivers and registered nurses, a designated therapeutic recreation and wellness associate, social workers, a dietician, a chaplain, and friendly dietary and housekeeping associates.
We work with residents and family members to set goals and address aspects of living that go beyond meeting medical needs. The caregiving team at our nursing home in York considers each resident's holistic well-being.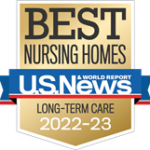 The Normandie Ridge Nursing Care Center is proud to be a U.S. News & World Report 2022-2023 Best Nursing Home!
Connected With Our Local Medical Community
The Normandie Ridge Nursing Care Center is just minutes from UPMC Medical Center and ancillary medical services, including physician offices.
Safety Measures at Our Nursing Home in York
Associates are required to receive the COVID-19 vaccine unless they qualify for a medical exemption. Normandie Ridge works with regional healthcare providers and pharmacies to offer the latest COVID-19 treatments as available and indicated. The Health Care Center utilizes heightened infection-control and cleaning processes, including the use of Solaris UV technology. Its pulsating UV light eliminates 99.6% of all pathogens when cleaning rooms, including COVID-19.
Contact us today to learn more about the care and services available at our skilled nursing home in York, PA.