Independent, Active Senior Living at Normandie Ridge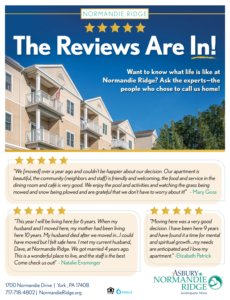 Fill your days with what matters most to you at Normandie Ridge's independent living 55 Plus community in York, Pa. This is the ideal lifestyle for active seniors who want to be part of a vibrant community but are ready to give up the hassles of home ownership. Whether you choose a cozy Garden Cottage or find apartment living to be just the right fit for you, you can anticipate more convenience, more amenities, and more welcoming neighbors just outside your door.
New Rental Option: Affordable, Cozy Mercer Cottage
Best of all is the renewed confidence your move will bring. By choosing a continuing care retirement community, you can relax knowing that you have a plan in place for whatever life brings your way. Normandie Ridge provides quality, on-site health care services and care navigation in a crisis.
With entrance fees starting around $127,200 and monthly services fees beginning at $1,511, you will be surprised how affordable living at Normandie Ridge can be.
Are you interested in touring Normandie Ridge?
We would love to show you around! Contact us today.
Peek Inside Our Beautiful Homes