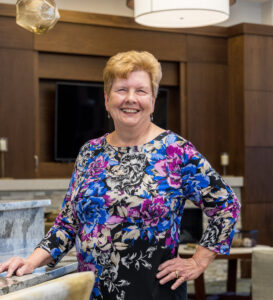 Ginny Wilt is one of those people who leaves a wake of goodwill in her path.
Whether it's her infectious laugh, her enthusiastic support of Bethany Village's benevolent care program, serving as an ambassador for new residents, or organizing the community's women to attend a monthly breakfast mixer, she's always finding new ways to make this tight-knit community even tighter.
"I love it here," says Ginny. "The moment I stepped onto this campus, something clicked. I felt like I was stepping into a community."
Change of plans benefits everyone
Initially, Ginny and her husband Jim were prepared to age in place and had prepped their home to "live in forever."
But, soon their once non-transient neighborhood changed, and lifelong friends began to move. About the same time, two of the couple's married children were taking on the responsibility of planning care for their in-laws. "I saw the toll it took on the kids. We didn't want that for our children," says Ginny.
That's when the couple decided it was time to start looking for a retirement community.  Initially, their three children were skeptical, but that hesitation quickly waned when they learned the many benefits of CCRC living. "Now they complain that we're never home," says Ginny. "They love seeing us active, and they get peace of mind knowing we're in a secure place."
Helping others, having fun
Ginny and Jim's daily schedule includes swimming, shooting pool and a walk around campus. But, that's the tip of the iceberg.
They also volunteer, play mini golf, play and assist with bingo, take on community projects in the woodworking shop, and serve as members of the Model Railroad Club: "Jim dragged me into that one," jokes Ginny. "But we do just about everything together."
Babes in the Bistro
Ginny's solo activities include being part of a team that does the morning announcements on Bethany's in-house TV station and creating and orchestrating of one of the community's most popular networking events, the Bethany Babes in the Bistro Breakfast. This monthly gathering for women aims to foster new friendships and brings together more than 85 residents over the course of two days.
Ginny is energized by the sense of community and caring that permeates life at Bethany Village. And she's not about to let that change. "When you have community, you feel connected, and that changes you for the better."