What I've Learned Working with Older Adults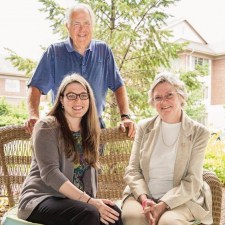 "Every day is a school day." I think I've heard my husband, a financial analyst and professor, utter this phrase well over one hundred times. My career with the Asbury Foundation has reinforced the truth of his statement a hundred fold. The older people I meet every day in my office at Bethany Village and at Asbury's other retirement communities have taught me countless lessons about life, marriage, family, and careers. Here are a few I'll always remember:
Age is only a number.
Every day I am around some of the busiest and most adventurous retired adults I have ever met. In addition to spending thousands of hours volunteering on campus, I've watched them head out snow tubing, water tubing – and I recently saw an article featuring a resident who went sky diving! Age is a state of mind.
Find joy where you can.
A common thread I have noticed in their attitudes is gratitude for what they have. They find joy in the little things. I've met residents who have experienced the death of a child or spouse, faced serious illness, been laid off from their dream jobs, and encountered extreme financial hardship. These are people who have lived through World War II, the Vietnam War and the Great Depression. They remind me that life isn't always easy and it's not always fun, but often it's the hard things that make us who we are.
There is truth in clichés.
We've all heard them – the grass is always greener on the other side, good things come to those who wait, don't sweat the small stuff, actions speak louder than words, slow and steady wins the race, a penny saved is a penny earned, and when life gives you lemons, make lemonade. Of all the old clichés, one of my favorites is "money can't buy happiness." Sometimes this popular phrase is followed with another cliché, "the best things in life are free." Both sayings offer one of the greatest lessons I've learned from working at retirement community – family and friends are your most important possessions. Deep and meaningful connections are essential to living well.
This will sound like an exaggeration, but I love going to work every day. Working at a retirement community has allowed me to meet some of the most interesting people and gain meaningful life lessons – and I'd like to think I've taught some lessons of my own. I only have one living grandparent, but working at Bethany Village is like having 600 more. They may not send me birthday cards with a crisp dollar bill inside – as my grandmother did – but they give me valuable gifts nonetheless.