Working Past Retirement Age? Why Not?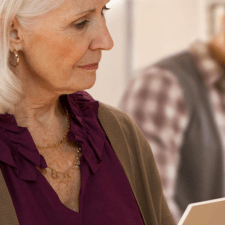 Research into the health effects of continuing to work past the typical retirement age is growing, and there is evidence linking working longer to longevity. Although the national, work-after-65 trend is largely linked to financial pressures, there are important social and emotional benefits for seniors who work at least part-time, especially in fields that are not physically demanding.
Despite having the word 'retirement' in their name, Asbury's retirement communities include plenty of residents who demonstrate this trend. Work is an important part of identity for many of us, particularly if we love what we do.
Putting skills to good use
In my role, I have many opportunities to meet older adults who have never viewed retirement as a time to take it easy. Some are volunteer dynamos, creating new programs for or helping residents of the community they now call home, working with churches or community service organizations, or even organizing their own outreach efforts such as the Gaithersburg Beloved Community Initiative at Asbury Methodist Village. But many continue to run their businesses, work as consultants, or even start a new career.
Working for FEMA
David Winterle, 78, of Asbury Solomons in Solomons, Md., began working for the Federal Emergency Management Agency (FEMA) after retiring from the military and local government. His retirement reads like a Top 10 list of national disasters, hardly the way most of us envision spending it. When not on assignment for FEMA, David spends time fishing and relaxing, but when asked when he will retire, his answer is "[W]hen I can't do it anymore."
Pink-ribbon winner
Sue Stees, 75, is a resident at Inverness Village, in Tulsa, Okla. She and her husband Dr. Tom Stees are the first franchisees of St. Louis/Panera Bread and currently own 18 bakery-cafes in Oklahoma, Missouri, and Arkansas. Sue worked in marketing and community relations for the company until she was 69, but remains involved with Panera's Pink Ribbon bagel campaign, which she created and is now a national promotion for breast cancer awareness. And she still jumps in for the business when the opportunity presents itself. Sue took part in five Panera at Home cooking segments for Tulsa News on 6 this spring.
A new twist on career
George Stosur, 80, is a resident of Asbury Methodist Village in Gaithersburg, Md. A former employee of the U.S. Department of Energy and Distinguished Lecturer of his engineering society, George turned his talents into a part-time career lecturing on climate change and weather on cruise ships.
It is interactions like these that continue to redefine how I view aging and look forward to the opportunities for enrichment and growth that our retirement years can bring.