2022 Music for the Mission Concert Series
Saturday, October 15, 2022 at 7:00 PM – New Orchestra of Washington (NOW): México Bello
The New Orchestra of Washington (NOW) is a Rockville-based nonprofit that will perform a celebration of Hispanic Heritage Month with México Bello ("beautiful Mexico"). This chamber concert will showcase the Mexican composer Manual Ponce, and it features tenor Jesus Hernandez and pianist Omar Herrera Arizmendi.
About NOW: Reimagining what have been the limited definitions of "classical music," the NOW welcomes audiences into a transformative musical experience that lessens the distance between our identities and compels listeners to feel something in the sound.  They create "great music without labels." It represents the robust cultural and ethnic diversity in metropolitan Washington, DC, where they are intentional about making orchestral music beautiful and accessible to people from all backgrounds. NOW's hallmark is small, intimate performances that put audiences at the heart center of musicians who pour the best of themselves and their cultures into immersive concerts that leave attendees inspired.
NOW is guided by six values—collaboration, representation, education, access, technology and experimentation (CREATE)—to foster innovative, inclusive programming; nurture enriching partnerships; and infuse the global flavors of all music. They lead with love for the experiential music we create and, most important, the people we want to absorb it.
Saturday, October 22, 2022 at 7:00 PM – Philly Keys Dueling Pianos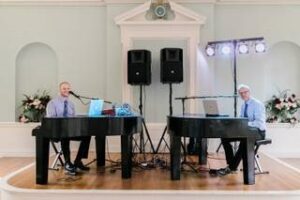 The second concert will conclude the concert series on a high note!  The Philly Keys are an energetic dueling piano duo that specializes in interactive sing-along shows. Requests from the audience are the backbone of this show, with performances spanning all decades and genres.
Crowd participation and great musicianship will have you tapping your toes and lift your spirits.  The Philly Keys have performed previously at AMV and will put on a show that you don't want to miss!
Both concerts will be held in the Rosborough Theatre. Support Benevolent Care through a Patron sponsorship and/or purchasing performance tickets below. Patrons of the "Benefit" concert series will be acknowledged in the program and on AVTV for both performances.