Roomy Cottage Is Perfect Equation for Couple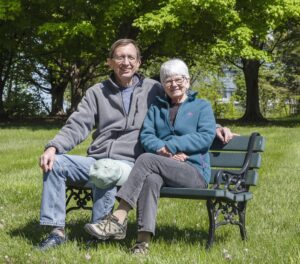 It seems fitting that when two mathematicians begin their search for a place to retire, numbers, or in this case square footage, are a part of the equation.
"This space just blew us away, and that was it for us," says Allen Schweinsberg, who with his wife Joanne, moved to their 1,600-square-foot cottage in March 2020.
Like many couples their age, Joanne, 74, and Allen, 79, both retired Bucknell University math teachers, were tired of caring for their aging home, but they weren't willing to give up too much space. So, when they first toured one of three especially large cottages, they immediately put their name on a waiting list to be contacted when one became available. Prepared to wait, they were delighted when in just a few days they received a phone call letting them know the cottage was theirs. Turns out, the two people ahead of them on the waitlist weren't quite ready to move and had turned it down.
Space for passions and priorities
"Bam! We were here," says an enthusiastic Allen. "This is one of only three homes on campus with this floor plan." The couple was excited to be able to customize their new cottage and focus on the spaces most important to them. In their case, a workable, up-to-date kitchen where Joanne could cook and a separate laundry room away from public view.  They also wanted extra rooms where their two sons could stay when visiting.
Along with their spacious home, Joanne and Allen are enjoying the community's spacious 108-acre campus, which is filled with walking paths and scenic places to enjoy the outdoors. "I can do a four-mile walk without leaving the campus," says. Joanne.  "And I always feel safe while I'm doing it."
Joanne, who puts a priority on staying fit, takes water aerobics and other exercise classes at the Wellness and Aquatics Center. "We really, really appreciate the wellness team," she says. "It's such a plus to have a fully equipped gym and professionally staffed center right here on campus."
She supplements her on-campus workouts with a twice-weekly, virtual TRX class done from her garage where she's installed a ceiling mount to accommodate the suspension workout.
Along with his daily workouts, Allen volunteers for a local land trust that preserves special green spaces. Once a new area has been identified for preservation, Allen crafts the conservation agreements. He's also taken up playing bridge after a 45-year hiatus and he and "bunch of guys" get together to shoot pool regularly in the community pool room.
Connections and convenience
The couple has called Lewisburg home for 48 years and the 1.5-mile move to RiverWoods meant nearly all their social connections and other activities remained the same. "I'm happy that we found a place so close to our old friends while having the opportunity to make new ones" says Allen. "We also didn't have to search for new doctors, and we know the area well."
Both Joanne and Allen feel secure about their choice, especially because of the health care services that are available to them if needed. "Who knows how things will change in the next few years," says Allen.  "I'm five years older than Joanne and I feel good that her future is provided for here."
A family affair
That peace of mind was also a key factor in the decision-making process for Allen's sister, Audrey, who will be moving to the community from Massachusetts this coming spring. Recently widowed and without children, Audrey, 75, visited her brother for a long weekend with no plans to move.
"We showed her around the community, including touring a friend's cottage, took her into town and introduced her to some of our friends," says Allen. Within days, Audrey had signed the paperwork and put down a deposit on a 1,000-square-foot cottage.
Allen is excited to have his sister nearby, but even more, he's comforted that Audrey's future is secure. "Making this decision takes care of the situation," says Allen. "Living here truly is a delight. I'm so glad Joanne and I made this choice."