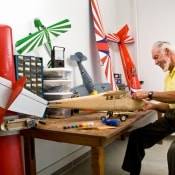 Charles McGeary was eight years old when he began building model planes. A child of the Great Depression, he recalls being mesmerized when airplanes flew overhead and later taking one of his early models to grade school to show his history teacher. Today, approaching 93 years of age, Charles and son Chris are building a full-size, two place airplane, driving to his son's house near Pittsburgh on weekends where the pair has been hard at work for almost four years.
Husband, wife shared love of flying
The Springhill resident's love of airplanes took off from models to actual flight in the 1950s when he and his wife earned private pilot licenses. They purchased a series of small planes, beginning with a Piper Cub for $600.
For eight years, the couple enjoyed flying. Then, Charles was involved in a devastating crash that left him hospitalized for almost year. He now uses a walker due to the injuries he sustained. Not surprisingly, his wife, who was pregnant at the time of the crash, said "no more flying."
He continued to build models and compete, though, and after moving to a Springhill Garden Home, he turned his garage into a workshop. Neighbors enjoyed watching Charles's creations take flight in his driveway. At Charles's winter home in Florida, he has a regular group of buddies who meet at sun up to fly their models then retire to breakfast.
His two boys tinkered with models when they were younger, but "never shared his interest," Charles says. Later, though, Chris decided to earn his private pilot license and bought a 1946 Ercoupe, the same year and model his father once owned.
STOL model is father-son project
The plane they're building today is known as a STOL model, for Short Take-Off or Landing. It holds two people and does about 90 miles an hour, lands at just 23 miles per hour, and in 100 feet will land, stop and take off.
When Chris first approached his father with the idea, He and Charles met at Just Aircraft and took a test flight.  Charles was enthralled with the safety features and changes that had occurred since he last flew.
When asked why, after 50 years on the ground, Charles decided to embark on this project and take to the skies again, he says, "All I can say is that to get in something you built and fly away is a real thrill.  Why let the models have all the fun!"