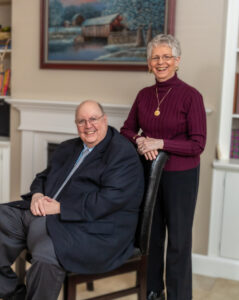 Dean Wilson could easily be described as a Renaissance man. Retired from a career as a fire protection engineer, his side gigs included working as a radio broadcaster, blogger, and consulting work in adult education, communications and building codes.
He was also a trailblazer in the working-from-home phenomenon that permeates today's workplace.
Because of frequent business travel, Dean and his wife Shirley relocated from Hartford, Conn. to Erie, Pa., in 2001 to be closer to Shirley's family.
Then, in 2015, Dean and his wife decided it was time to search for a continuing care retirement community. "We knew the earlier we moved, the easier it would be," says Dean, a self-described pragmatist who understood that his diagnosis of osteoarthritis could require supportive services as he aged.
Peace of mind
Happily, their search began and ended with Springhill. They attended several marketing seminars at the community and added their names on a waiting list for a Garden Home. "When a Garden Home became available, we acted quickly," says Dean. "We don't have children and we knew this would be a smart move. And it's proven to be so."
Along with all their beautiful home and all the great amenities, security for the future was among the top considerations for a move.
"Living at Springhill provides you with peace of mind—for yourself and, perhaps more importantly, peace of mind for your extended family," says Dean. "Knowing that you are living in a safe place, cared for by extremely competent and attentive staff members, and having a wide variety of activities to keep your mind and body sharp and agile will give you a strong sense of well-being."
As for when to move, Dean is of the sooner-is-better philosophy: "The biggest decision you may make is when to move to Springhill. Let me urge you to do so now. Start the process immediately. The sooner you move here, the sooner you will begin to experience all that Springhill has to offer."
Pursuing their passions
Dean and Shirley, now in their mid-70's, keep near full-time volunteer schedules. Dean serves as director of communications for the couple's church and consults with other pastors on creating effective communications.
Dean is also a "faithful" attendee of the monthly Town Hall meetings at Springhill and has prepared PowerPoint presentations and made other technical contributions to the meetings.
Shirley, a retired public school music teacher, is the accompanist at the couple's church and manages the volunteers at UPMC Hamot Hospital in Erie.
While the couple's full volunteer schedule doesn't allow much time to take part in campus programs, they appreciate that there are so many options available to residents.
"Do you have hobbies that have meant a great deal to you? If so, you will very likely find numerous other residents who share your passion," says Dean. "And Springhill accommodates virtually every hobby that you can bring to mind."