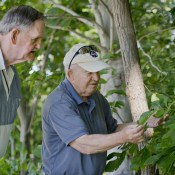 It doesn't take long for new Springhill residents to comment on how many interesting conversations they find themselves in with their newfound neighbors. With residents such as Ed Masteller, Ph.D., a retired entomologist with Penn State Behrend University, it's no wonder. After seeing an article about an initiative called Project BudBurst in American Scientist magazine, Dr. Masteller was intrigued. He did some research online and pretty soon decided to try and involve Springhill.
Although an insect-lover and researcher by profession, Dr. Masteller loves nature in general. Last fall, he helped spearhead the planting of a birds and butterfly garden on a grassy hill near the community's large pond. He has also hosted nature walks exploring Springhill's wooded areas. With Project BudBurst, residents signed on to uncover and document the stories plants have to tell in hopes of better understanding climate change, specifically species' responsiveness to changes in climate locally, regionally, and nationally.
Dr. Masteller held informational meetings in early April  and assembled about 25 bud watchers. Each volunteer was "assigned" a tree on the Springhill campus and given data collection sheets from the Project BudBurst to record information about budding, leafing, pollen and flowering. Springhill logged more than 100 data entries on the website.
"I had no idea what a red bud tree was before joining this group!" said resident volunteer Li Beckman. "It's a beautiful tree and I learned a lot through this project." At the conclusion of the project, the volunteers presented their findings to other interested Springhill residents.
"This is an important scientific project, but my goal was also to get people interested in nature," said Dr. Masteller.  "I got people to really look."
Such unique programs – many created by the continuing care retirement community's multi-talented residents – are just one of the many benefits you can anticipate from the Springhill lifestyle.