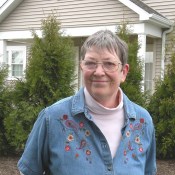 Although our hyper-vigilant spell checkers will insist that procrastinot is a typo, the term is in fact a neologism I invented when challenged to create a one-word New Year's Resolution. As a life-long procrastinator, I felt it was about time to kick the habit of putting things off. That is, if I could get around to it . . .
My procrastination habit was firmly entrenched—much like the deeply rooted delight and pride we took in our cherished home. But even an utterly incorrigible procrastinator can be motivated to "get a move on." You just need the right incentive!
Ours came one ferocious Erie winter with the dreadful discovery of precipitation in our pantry. Dripping canned goods, soggy paper products, drenched shelving: A royal mess!
Our roof wasn't even three years old. We should have been snug and dry. Instead we were gathering buckets and pots, towels and mops. Turning to my husband Dan, I asked, "Is this a sign that we should get outta here?"
For at least a decade we had planned an eventual move to Springhill, but year after year we drifted comfortably along in our charming Tudor cottage. We weren't "ready." I loved our home with a passion. It was the house of my dreams, situated in a gracious neighborhood, surrounded by mature trees. I dreaded leaving it. So how do you let go? For me, it was deciding to view the move as an adventure. And the deluge in our pantry didn't hurt!
As soon as we had mopped up the biggest puddles, Dan e-mailed Sharon Anderson, Springhill's Senior Living Counselor (Senior "Living-It-Up" Counselor would be more like it!). Springhill had one Garden Home available, and it had the enclosed patio that was a "must have" for us—and for our cats. We headed over and spent a couple of hours imagining ourselves living in the intelligently designed house. Dan said, "I could be very happy here." Sharon asked if we'd like to mull things over for a while. "Why?" I replied. We signed a contract that very afternoon.
In 60 days, we got rid of stuff we'd been accumulating for more than 40 years. Rather than finding the task onerous, it actually felt cleansing to declutter our lives.
The whole process was incredibly smooth thanks to the superb guidance offered by Springhill's marketing team. They connected us with people who helped manage every aspect of our relocation, and I took to calling their Move-In Coordinator Jill Mannino, "Smooth-Move" Mannino.
At 8:15 on moving day, the huge van arrived at our old house. By noon, we and the crew were in our Garden Home dining room enjoying a tasty lunch provided by Springhill. All of our furniture was in place: the grandfather clock, the piano, the harpsichord. We were home!
My advice? In a word: ProcrastiNOT. (And, P.S., I do not miss our old house.)
Written by Karen Keene, an organist, a published composer, a cat rescuer, and a sublimely happy resident of Springhill's senior living community in Erie, PA.