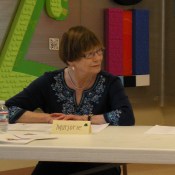 Twice a month on a Tuesday morning, six people who used to be little more than acquaintances meet in a room and prepare to lay it all out on the table. There, they share writings that range from humorous observational essays to lovely nature poems to personal explorations of life events. Over the course of two years, the members of this group have come to know each other in ways they never could have anticipated and been enriched more than they ever would have imagined.
"We have all said we had no idea of the stories that are going on in people's lives," says Marjorie Podolsky, the group's founder. "You don't get to talk about these kinds of things in day-to-day conversations. We never would have known each other like this if we hadn't been writing together."
The Springhill Writer's Workshop grew out of a memoir writing class that Marjorie began at the request of the community's Residential Services Director Sandy Buckley. A retired English professor, Marjorie knows her stuff when it comes to crafting a story. She is currently teaching a literature course at Erie's Jefferson Educational Society. But she is quick to point out that she is not playing the role of teacher or leader, even if she does organize it.
"I don't hand out topics or give lessons on writing," she says. "That's not the intention of this group. These are their stories, not mine."
Bonnie Bullers, 89, has been writing since she was a little girl – play scripts, poems and short stories, all types of genres. She recalls something she wrote for her grandchildren depicting a school bus as a monster coming down the street to swallow up the students. One can only assume she gave that to them just before school started. Currently, she is working on turning letters, notes and family documents into a history of her mother's family, which migrated to America from Wales and includes several notable members.
"When I heard Springhill was offering this class, I think I was the first one to sign up," she says. "I love poetry and I'm learning so much more about it from this group."
At the end of each class, people announce whether they have something to share at the next one. Readers come with typed copies of their piece for each group member. After listening, the members discuss the piece and give feedback on how to improve it.
Taking the subject seriously
The group routinely discusses such literary staples as theme, word choice and whether someone is using adequate details to convey the emotion or image they are trying to evoke. "We get into some pretty intensive discussion on word choice and have talked often about how to discuss painful events with a writer's objectivity," Marjorie says. "I have been so impressed with the stories and the talent and the interest. Everyone comes ready to read, to listen attentively and to discuss. People have commented on how interactive and stimulating it is."
Currently, the group includes five women and one man. From time to time, people approach Marjorie about coming to listen, but only those willing to share may join. This decision ties into the workshop's one rule: what happens in the group stays in the group. "Some people are writing about very personal things," Marjorie notes.
However, in June, the eagerly group took some of their writing public when members held a reading at LifeWorks Erie, a community wellness center for older adults, and they plan to hold another one in October. For Bonnie, that confidence to share her writing with others has grown in the two years she has participated in the workshop. She has mailed pieces to family members and several friends.
Sharing writings inspires and motivates
Beyond the obvious benefit workshop participants have gained from constructive criticism of their writing, the class also provides motivation and inspiration, Marjorie points out.
"Most of these people already had some things they were writing and re-working," Marjorie says. "The family stories are so interesting, but that is not necessarily the primary subject matter. One is writing a philosophy of life, essentially. Several pieces are just humorous stories or observations on things that are happening around Springhill. Two people enjoy writing nature poems. We found that having other people who want to listen to your writing is a very strong motivator to work on it. And when one person writes a piece, we inspire each other with those ideas."
Marjorie says that members have formed new respect for each other's talents. Bonnie agrees, adding that the class has created a bond between people who might not have done much more than cross paths before. "It has definitely brought us closer together."