Independent Senior Living at Asbury Solomons
Every aspect of retirement living at Asbury Solomons reflects the community's carefree and relaxed attitude, including the home designs. Imagine keeping an eye on ospreys from your river view retirement apartment. Or watching egrets from the screened-in porch of your cottage.
Scroll down to enjoy virtual tours of some of our residences!
Maybe you're looking for soaring ceilings? Or, is a more traditional floor plan to your taste? The choice is yours. And the best part is, every independent living residence is virtually maintenance-free, so your days are open to enjoy Asbury Solomons' laid-back island lifestyle and the many opportunities it offers for getting involved in the waterfront senior living community near you.
As the only accredited waterfront Continuing Care Retirement Community in Southern Maryland, Asbury Solomons combines quality services and amenities with the promise of lifetime care near you. Everything about independent living at Asbury is focused on providing you with opportunities to live life to its fullest. Between the views, the choice of waterfront senior living options, the lifestyle and the security for the future, life at Asbury retirement community in Solomons, MD is about as good as it gets.
With apartment entrance fees starting around $171,000 and one-bedroom apartment fees beginning at $2,509, you will be surprised at how affordable living at Asbury Solomons can be.
The Best of All Worlds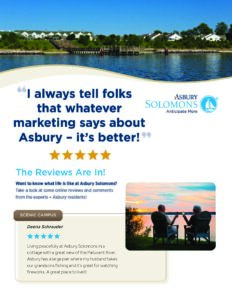 As a Continuing Care Retirement Community (CCRC), Asbury Solomons provides you with lifelong access to a full continuum of health and supportive services, right on campus, if you ever need them. Many residents tell us that their decision to move to Asbury Solomons senior independent living community was a gift not only to themselves, but to their children.
Just as importantly, you will have the security of knowing that, even if you outlive your life savings, through no fault of your own, you will always have a place to live and access to care at Asbury Solomons near Solomons Island, Maryland. Throughout our history, no one ever has been asked to leave due to inability to pay. Providing people 60-plus with that assurance for the future is at the core of our not-for-profit mission. The Asbury Solomons CCRC helps you live the lifestyle you want. Explore these Frequently Asked Questions  about independent living in Solomons or contact us today to learn more about our vibrant waterfront independent living community.