Meet the Residents at Asbury Solomons!
Meet some residents who embody and enjoy taking advantage of the Asbury Solomons' lifestyle.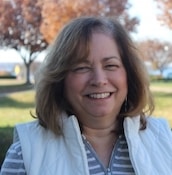 When Anna Tillack retired, she had no intention of just sitting around and "looking at my four walls," she says. In particular, Anna was looking for a way to give back to the Southern Maryland community she and her husband had called home since 1978. Read More »
---
Whether it's volunteering within the retirement community where they live or focusing their efforts outward, Asbury residents are busy doing exactly what they want to be doing – making good use of their time and talents. Read More »
---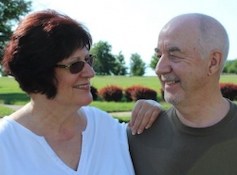 Meet Pam and George Callen, two of Asbury Solomons' newest Cottage residents.
The couple had just returned from a water aerobics class on campus when they spoke about their decision to move to a retirement community at an age – Pam is 69, George, 73 – that left many of their friends scratching their heads. Read More »
---
Peggy Hovermale was drawn to Asbury Solomons by her love of the water and fond childhood memories of fishing on Solomons Island with her father. Now, the Silver Spring native loves it when her grandchildren visit and they all head down to the river to kayak, fish off the pier or net fish along the beach. Read More »
---
It doesn't take long for new Asbury Solomons' residents to comment on how many interesting conversations they find themselves in with their newfound neighbors. Read More »
---
Clearly, Ron Gruver is a one hundred and ten percent kind of guy. He's a great example of the independent living that Asbury residents enjoy. Read More »
---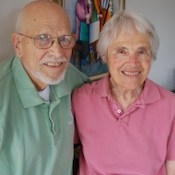 When it comes to selecting a retirement community, criteria vary from person to person. But it's a safe bet that Bill Houpt's criteria were fairly unusual – wherever he and wife Ann moved, the elevator had to be large enough to fit his grand piano. Read More »
---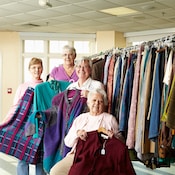 Ruth Maxey is a self-described people person, a fact that would come as no surprise to the hundreds of residents and shoppers who interact with Ruth in her role as a founding volunteer of Betty's Closet, the thrift shop that benefits Asbury Solomons' Benevolent Care Fund. Read More »
---
Suzanne and Bud Edwards moved to Asbury Solomons from Arkansas in 2006, drawn by the proximity of their children and the community's fabulous river view. Read More »
---
March is when most garden lovers at Asbury Solomons begin staking out their seasonal harvest. By late summer, many will no doubt be wondering why on earth they planted all those tomatoes and zucchini. Read More »
---
For sisters, Lee McCollough and Charlene Massing, being together in retirement was a foregone conclusion. "From the time I was little, I've had this picture in my mind of two, little old ladies walking down the street," Charlene says. "I could only see them from the back, but I just always knew it was my sister and me." Read More »
---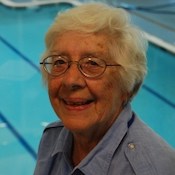 At 84, Dorothy Szymanski is committed to an annual quest that most people half her age can hardly fathom.  For the past two years, she has been a resident at Asbury Solomons, Dorothy has completed 50 miles worth of laps in the community's pool, continuing a passion for swimming she has had for almost as long she can remember. Read More »
---
Sue Hu's passion and energy for the environment have never been in short supply.  A long career as a science teacher was capped off by ten years directing and teaching summer classes for Audubon Naturalist Society and Calvert Marine Museum immersing teenagers in Chesapeake Bay ecology. Read More »
---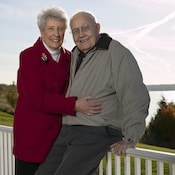 Frank's story: Before Asbury Solomons was a reality my wife, Miriam, and I stood on the river bank looking out over the Patuxent as it gently flowed toward the Chesapeake Bay. Read More »
---
In 2007, Asbury Solomons' residents Martha, Rebecca, Vivian, Susan, Kay, and Fran decided that they would like to get together on their own to do some weight training. Read More »