A Person-Centered Approach to Skilled Care
Apart from the amazing waterfront location, one of the main reasons people choose Asbury Solomons is the promise of skilled nursing care that holds the highest overall rating from the U.S. Centers for Medicare & Medicaid Services. At the Solomons Nursing Center, you or your loved one will have access right on campus to 24-hour skilled nursing care, rehabilitative, recuperative, and therapeutic services – all provided in a person-centered environment staffed by associates who are dedicated to providing care that meets each resident's unique needs and preferences.
Our Health Care Center also welcomes seniors from outside our community, regardless of payor source. Please contact us if you would like to know about current openings.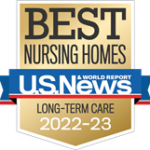 Asbury Solomons Health Care Center is a U.S. News & World Report 2022-2023 Best Nursing Home!
Services at Our 5 star-rated Health Care Center:
Administration and management of medication
Mobility assistance with grooming, dressing, bathing, dining, using the restroom and getting around
Incontinence care
Interdisciplinary care planning and comprehensive care management
Social work services
Pastoral care
Physical, occupational, and speech rehabilitation therapies and restorative care
Wound care
Respite care is sometimes available
Amenities:
Private and semi-private suites
secure Sensory Garden
On-site staff 24 hours a day: licensed nurses, certified nursing assistants, licensed social workers, therapeutic recreation specialists, and restorative aides
All meals and snacks
Restaurant-style dining room
Scheduled transportation
Housekeeping
Phone, basic cable and utilities
Recreation specialist with full calendar of resident programs
Access to all Asbury Solomons' amenities, campus, and dining venues
Visitors welcome 24 hours a day, seven days a week
On the 2020 family experience of care survey conducted by the state of Maryland, 100 percent of respondents said they would recommend our nursing care services– compared to a statewide average of 80 percent.
Contact us today to learn more about our compassionate skilled care center or to speak with a member of our team.
View or download the Asbury Solomons Health Care Center Welcome Packet