The Cheerful Face Behind Betty's Closet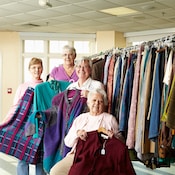 Ruth Maxey is a self-described people person, a fact that would come as no surprise to the hundreds of residents and shoppers who interact with Ruth in her role as a founding volunteer of Betty's Closet, the thrift shop that benefits Asbury Solomons' Benevolent Care Fund.
Her cheerful presence is a fixture around the community as she gathers, sorts and cleans unwanted clothing from residents, works with other Betty's Closet volunteers to set up the bi-monthly sale and even makes the occasional delivery.
An energetic 73-year-old, Ruth worked as an administrative assistant in Prince George's County public schools for 30 years while helping her husband with the family's high-performance auto parts business. She grew up in a little town of Eglon, West Virginia, where her parents owned a dairy farm; she has vivid memories of delivering bottles of milk to customers' front porches. Many of her family members still work in agriculture today.
Besides her work with Betty's Closet, Ruth is also a member of Asbury's Entertainment and Travel Committee. She oversees the community's bi-weekly day trips to different destinations. This year's trips have included the Biltmore in Asheville, N.C., Longwood Gardens and Winterthur in Delaware and a day of sightseeing and high tea at the Jefferson Hotel in Richmond, Va.
Ruth came to Asbury seven years ago after visiting a friend who lived here. Ruth's husband had died several years earlier and she was getting tired of taking care of the house all by herself. But she was really sold by the social aspect of the community. After her visit, Ruth stopped by the marketing office and filled out an application that day.
Her work with Betty's Closet puts her in a unique position to meet many of Asbury's new residents – quite a few of whom decide they didn't downsize quite enough after moving into their new home.
"I always enjoy the conversations I have when I stop by to pick up clothes," Ruth says. "I am amazed by some of the things people here have done. There are such interesting backgrounds and stories!"
She has also enjoyed an unexpected bonus from her work with the thrift shop: "I always thought I had a lot of clothes, but since I started doing this, I don't feel so bad," she laughs.
The biggest benefit of all the hours she spends with Betty's Closet, though, is the fun and friendships it brings, according to Ruth.
In addition to the other Asbury residents who dedicate their time to Betty's Closet, a friend from Kent Island comes to help frequently, and her daughter and grandson are regulars. "Recently, a woman who I worked with in the P.G. County schools walked in to the sale," Ruth says. "I hadn't seen her in 20 years!"
Ruth was inspired to work on Betty's Closet by the woman after whom it is named, former resident Betty King. The shop held its first sale on Betty's 90th birthday, and in the three years since its inception has raised $65,000 for Asbury Solomons Benevolent Care Fund, which helps defray expenses for residents who have outlived their financial resources.
Today, people line up for the sale while Betty's Closet volunteers are still setting up tables and pricing items, which are all $5 or less. Typically, the items fill 18 commercial clothing racks and 10 tables.
They now have an email list of 350 regulars who receive a reminder before each sale – and a few people come before the sale's official 9 a.m. Saturday start to find the best items.
"It is a lot of work," Ruth acknowledges. "But it feels great knowing that we are helping people in the area who are getting great quality clothing and shoes for a bargain. And there are some older residents here who have a hard time getting out to shop anymore. They can find nice clothing here. And of course, it feels good knowing we're making a real difference for Benevolent Care, too."