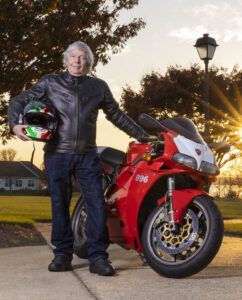 A self-described "gearhead," Lowell Martin sets a fast pace.
He loves taking students sailing on a historic skipjack at Calvert Marine Museum where he volunteers, but is equally at home on the open road riding his beloved red Ducati sportbike.
As a former mechanical engineer, naval officer, and environmental attorney, Lowell is a man of varied interests who now leads the volunteer council at the Calvert Marine Museum located a few minutes away in Solomons, Md.
Though the Ducati suggests he's a speed demon, Lowell insists those days are past. For several years, he participated in road races on a track but stopped when he "realized he was spending more time thinking about self-preservation than winning."
Today, Lowell loves to head out on a sunny day to cruise the back roads or ride to the beach at Point Lookout in St. Mary's County.
Members of the Southern Maryland Sailing Association, Lowell and his wife Marilyn moved to Asbury Solomons from Chesapeake Beach after being on the Navigator's Club Futures List for several years.
Asked what attracted him to Asbury Solomons, he notes the campus' Patuxent River location, and the fact that the couple's river view Cottage has a garage where he can tinker to his heart's content. "To me, as a hopeless gearhead, that's fantastic," Lowell laughs.
Marilyn takes part in many activities, including Asbury Solomons' Go Green Committee's environmental efforts, which most recently include the installation of rain gardens and other tools that will help mitigate run-off from the community into the Patuxent River.
Lowell and Marilyn moved to Asbury Solomons while in their 70s – a good timeframe in his estimation. He had seen the benefits that continuing care retirement communities bring from his parents' experience.
"Frankly, mowing the yard and taking care of the house wasn't my favorite activity," Lowell says. "My dad was always doing yardwork and when they moved to a retirement community, they loved it. I felt like it was time to stop managing the big house and let somebody else take care of it."
Asked what advice he has for someone considering a move to a continuing care retirement community like Asbury Solomons, Lowell says, "Don't wait. It's a shame when I see people move in who can't really take advantage of all there is to do here."
That list would include a wide range of fitness and aquatic classes, kayaking along the community's riverfront and nearby inlets, and taking part in a wide range of programs, clubs, and classes offered on campus and in the surrounding Southern Maryland community.
But, really, says Lowell, what you don't want to miss is the opportunity to become part of such an interesting, welcoming community.
"It's the people who make this place," he concludes. "The folks who live here are just a joy. We'll frequently gather friends and go grab a bite to eat in the River View Restaurant or walk around the campus. It's just a really interesting set of varied backgrounds and friendly, curious people. We have a wonderful time."