Audubon Devotee & Professor Shares Passion With Others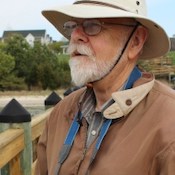 It doesn't take long for new Asbury Solomons' residents to comment on how many interesting conversations they find themselves in with their newfound neighbors.
With residents such as Ernest Willoughby, a professor emeritus of biology of St. Mary's College of Maryland, it's no surprise.
Since joining Asbury Solomons last May, Ernie, as he is called, has followed in the steps of so many other residents by finding a way to share his professional experience and passions in new programs that benefit everyone living here.
Asbury Solomons is an ideal location for nature lovers and bird lovers alike. So, when Ernie and his wife were ready to shed the house that had outgrown their needs, this riverfront retirement community was a 'natural' choice.
Always something new to discover
I head out for a walk around campus to see what's what with the birds just about every day," Ernie says. "There is such a rich diversity of species you can see because we have so many environments for them –waterfowl birds, beach bird, species that are attracted to brush areas, woodpeckers, and more common birds like finches, sparrows and mockingbirds that like our buildings, lawns and resident gardens.
A member of the Audubon Society since he was 12 years old, Ernie was named the 2015 Conservationist of the Year by the Southern Maryland chapter, to which he has belonged since he joined the faculty of St. Mary's College in 1972. The work he and Paula have done with the Audubon Society includes erecting platforms for osprey nesting and banding ospreys on the Patuxent and St. Mary's rivers to track – and protect – their migration routes.
Enriching Go Green Committee
Ernie and Paula are now active members of the Asbury Solomons Go Green Committee, which having added more than one million pollution-filtering oysters to the Patuxent River, is now expanding its focus to the skies with a regular bird-watching group led by, you guessed it, the Willoughbys. A recent outing included the sighting of a young bald eagle.
And each week, they post a Bird of the Week on Asbury Solomons' Facebook page, spotlighting different species they've sighted.
Ernie's love for the environment is clear, and he's enjoying being able to share it with new friends. Birds are early indicators of environmental degradation, he notes, citing their role in uncovering the toxic effects of DDT. "We depend on ecological services to keep us alive," he says. "We have to understand how to regenerate our environment as we exploit it."