Independent Senior Living at Springhill
With 36 spacious garden homes and 124 beautifully appointed apartment homes available in a variety of floor plans, Springhill senior living is Erie PA's premier senior living community. You'll be surrounded by amenities, conveniences and a community of welcoming, caring, and interesting people. But what truly makes living in our continuing care retirement community so exceptional is the security that comes with knowing that you can finally relax and enjoy the present, because your future is assured.
Springhill is proud to be a U.S. News & World Report 2023-2024 Best Independent Living community and an International Council on Active Aging Top 25 senior wellness community!
With entrance fees starting around $117,800 and monthly services fees beginning at $2,611, you will be surprised how affordable living at Springhill can be.
Redefine Your Expectations
Active, Social Living with Peace of Mind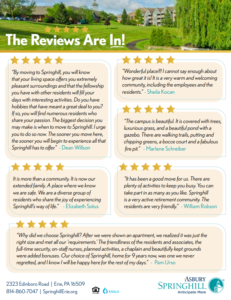 Springhill Resident Dean Wilson says, "Living at Springhill provides you with peace of mind—for yourself and, perhaps more importantly, peace of mind for your extended family. Knowing that you are living in a safe place, cared for by extremely competent and attentive staff members, and having a wide variety of activities to keep your mind and body sharp and agile will give you a strong sense of well-being. Do you have hobbies that have meant a great deal to you? If so, you will very likely find numerous other residents who share your passion…. The biggest decision you may make is when to move to Springhill. Let me urge you to do so now. The sooner you move here, the sooner you will begin to experience all that Springhill has to offer."
3 Factors to Consider When Timing a Move
While Springhill independent living community truly does provide an exceptional lifestyle, that's just the beginning of our commitment to you. With quality, on-site health care services, including Asbury Home Services and care navigation in a crisis, support for your independent lifestyle is just outside your door should your needs change. With a Vision to redefine the expectations of aging, Springhill senior living is committed to creating an active adult community in Erie where 'anticipate more' is a way of life.
Are you interested in touring Springhill or learning more about our independent living community for seniors? We would love to show you around! Contact us today.