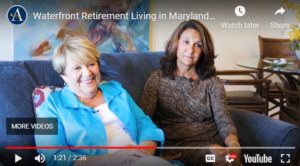 Although Patty Runco is a transplant to Southern Maryland – like many, she and her husband came via the Patuxent River Naval Air Base after years of different posts that included Turkey – she has deep roots here.
Watch our video interview with Patty and her daughter Mary Lynn.
They raised two daughters in St. Mary's County, and Patty is part of a group that founded the St. Mary's College of Maryland Arts Alliance.
So when she began to think about a new home "that was just for me," she kept her search local. Asbury Solomons quickly rose to the top of her list.
"The environment here is the best in this region," Patty says. "The waterfront location, the programs, the Travel Club and any other club that might spark your interest, you can find it here, from making a quilt to growing oysters."
Getting involved
For Patty, that meant putting her love of painting to work on the community's just-completed mural celebrating its 20-year history.
"I hadn't been here a week before they were putting a paint brush in my hand," Patty laughs, referring to the residents who conceived of and painted the mural. She joined a group of volunteers each Wednesday and Friday when she had time and worked on her assigned section.
In addition to providing a new opportunity to use her artistic skills, it was also a great way to meet people in her new community.
"I'm a real people person," Patty says. "I can enjoy my apartment's views of the community gardens and paint, or I can take advantage of whatever is happening on campus. I definitely have more social interaction here, and we all seem to have a lot in common."
New 'layer of fullness to life'
Patty especially enjoys not having to worry about a house filled with rooms she no longer needed. When it snows or storms, she loves not having to worry about damage to the house. "And I don't have to take out the garbage!" she adds.
Prior to moving, Patty felt like her daughters were spending a lot of energy and time checking in on her and making sure she got out and had entertainment.
Now, says daughter Mary Lynn Stone, more often than not when she makes her daily phone call to Patty, her mom's out and about.
"Looking back, I think I wish we had made the decision sooner," Mary Lynn says. "We're happy that she did it now, but would feel very badly if we'd waited any longer and my Mom wouldn't have had an opportunity to be engaged in everything that there is here. Because it really does add a whole other layer of fullness to life."
"I feel like I'm on a constant vacation," Patty says. "I'm very happy here and I want to share that."