Music, Travel Lovers Find Perfect 'Fit'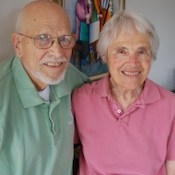 When it comes to selecting a retirement community, criteria vary from person to person. But it's a safe bet that Bill Houpt's criteria was fairly unusual – wherever he and wife Ann moved, the elevator had to be large enough to fit his grand piano.
Of course, that wasn't the only thing the Houpts loved about Asbury Solomons, and it has "fit" them well since their move in May 2014.
"We looked at it as if we were heading off to college again," Ann says. "I know the popular idea today is to age in your house, but I always thought that sounded isolating."
A proactive couple when it comes to planning for aging, the Houpts had already moved from their large, New Jersey home to a condominium. However, having visited many retirement and health care settings as a director of an adult choir, Bill wanted a home that would work for the rest of their lives no matter what changes occurred.
The turnkey nature of Asbury Solomons living suits them well, too.
In late June, the couple headed to the Yucatan Peninsula with a twin, 10-year-old granddaughter, and later this summer head to Costa Rica with the other twin. Travel lovers who have been to all seven continents, the Houpts have taken each grandchild on a special trip when they turn 10.
Though long-time New Jersey residents, the Houpts love the water and had visited Ann's parents in nearby Lusby for years. The fact that their children and grandchildren live in Alexandria, Va., and Severna Park, Md. played a key role.
"We have a gorgeous view of the river from our apartment," Ann says. "During this time of year, I like to walk down to the dock and check on the osprey nest."
As for Bill, he knew there were a lot of options for retirement living available, but found everything he needed in the community's pool, gym and workshop space; water views; and people. "It was obvious that people were quite involved in the community, and we just kept hearing them say they wish they had moved here sooner. I just fell in love with the place," he says.