Asbury is more than a collection of communities. We're an organization of people with a mindset to help others explore the possibilities to live their best lives. With a system of premier continuing care retirement communities, rental living for middle-income seniors, and diversified aging services, Asbury delivers what people need to live engaged, secure, and connected lives. It's no surprise that for five years, Asbury associates have helped earn us Great Place to Work certification, with 87% responding that their "work has special meaning" and is not "just a job." Asbury Communities is proud to hold EAGLE accreditation.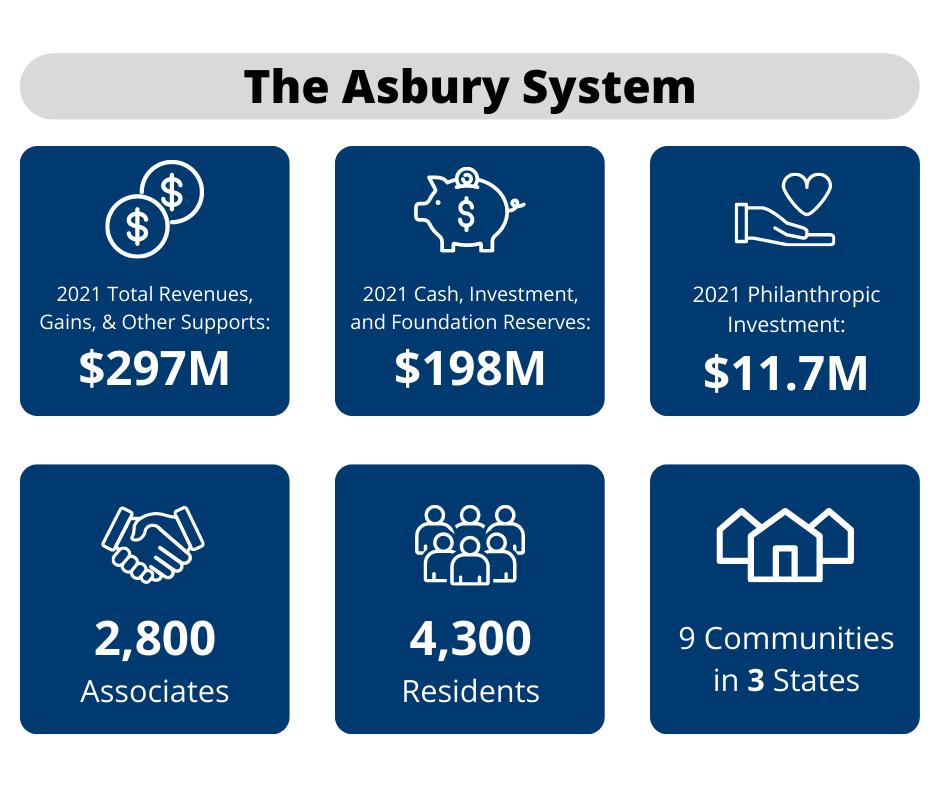 In 2022, Asbury Communities is the nation's 16th largest not-for-profit system of continuing care retirement communities and related aging services, as ranked by LeadingAge Zeigler 200. In addition to our communities, Asbury has grown to include the Asbury Foundation; EDGE Therapy Solutions; Albright Pharmacy Services; and, ThriveWell Tech IT MSP services.
Our Communities: A Snapshot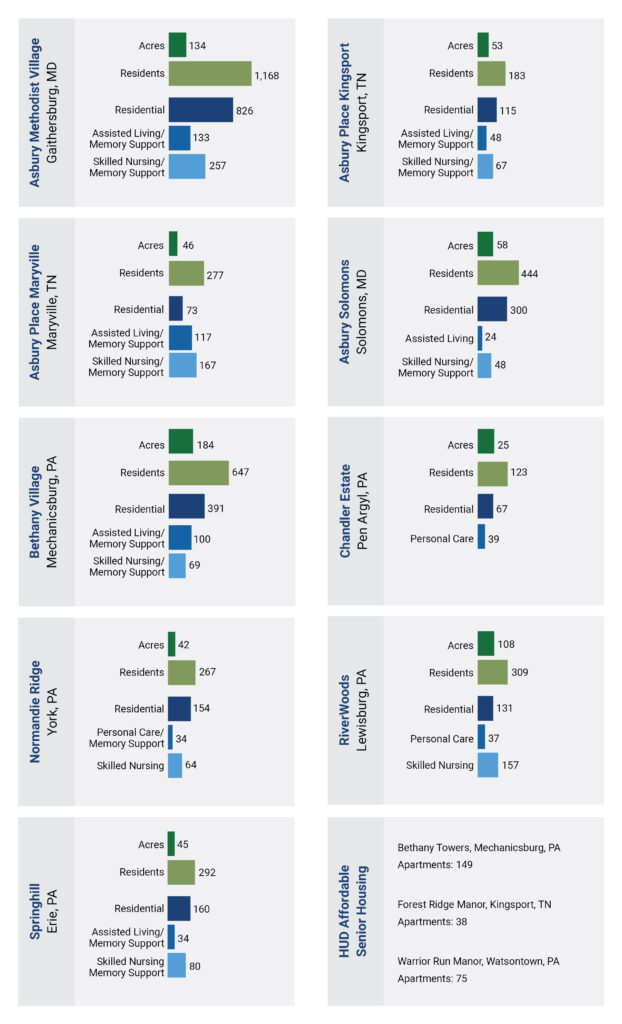 Asbury Communities Governance
The Asbury Board of Directors represents the Asbury parent corporation, which provides management services to its related organizations. As directors of a not-for-profit organization, board members ensure that Asbury fulfills its mission and tax-exempt purpose, as well as meets its obligations to all of its constituencies. Meet the Asbury Communities Board.
Asbury Communities Highlights & Recognition
The outstanding work of our 2,800 associates in partnership with residents, partners, and volunteer board members make the accomplishments below possible.
2022, 2021, 2020, 2019 and 2018 Great Place to Work
2020 Top 40 Workplaces Aging Services – Fortune Magazine
2020 and 2019 Frederick County Best Workplace
2018 Top 40 Workplaces for Aging Services – Fortune Magazine
2018 United Methodist Association EAGLE Innovation Award – Asbury Communities
2017 LeadingAge Dr. Herbert Shore Outstanding Mentor Award – Sue DaCamara, Asbury Communities
2017 PR Daily Nonprofit PR Award – Asbury Communities
2016 Maryland Outstanding Environmental and Community Leadership Award – Asbury Solomons
2018 Planetree Gold Recognition – Bethany Village
2014 International Council for Active Aging Innovator Award – Asbury Methodist Village
2014 LeadingAge Hobart Jackson Cultural Diversity Award – Asbury Methodist Village
Asbury's Response to COVID-19
Our highest priority and concern is ensuring the safety and well-being of those who live and work at our communities. We continue to aggressively work to minimize the risks of the COVID-19 virus. Learn more about our COVID-19 Prevention and Response Measures and hear what residents have to say about the safety, security, and sense of community they have experienced.